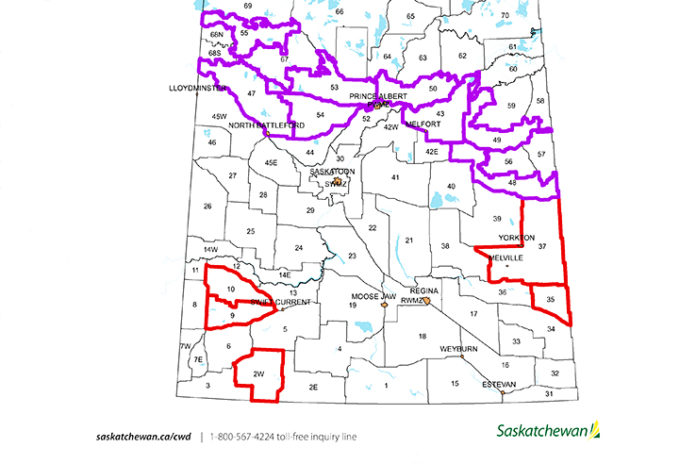 The Southwest has three of the five wildlife management zones the province is most interested in taking a closer look for Chronic Wasting Disease (CWD).
The province is hoping Southwest hunters in wildlife management zones 9, 10 and 2W will submit all mule deer and white-tailed deer heads for testing for CWD this hunting season. They are hoping to get at least 300 samples in each of the targeted zones in the Southwest to more accurately assess changes in the disease and help guide future management options. They are also targeting two zones along the Saskatchewan/Manitoba border.
The Ministry of Environment – in partnership with the Saskatchewan Wildlife Federation (SWF) – is encouraging hunters to submit the heads of all deer, moose, elk and caribou harvested this hunting season for Chronic Wasting Disease testing. CWD is a fatal, infectious central nervous system disease in cervids that has no known cure.
"The Saskatchewan Wildlife Federation will manage a number of drop-off sites this year to help augment the ministry program," SWF Executive Director Darrell Crabbe said. "Monitoring CWD in the province is beneficial for hunters, and an important indicator in managing our wildlife resources."
"Hunters play an important role in supporting wildlife health, and submitted more than 2,000 heads for CWD testing last year," added Environment Minister Dustin Duncan. "Understanding how this disease spreads is critical in evaluating potential population impacts, and in developing disease management plans."
CWD was discovered in provincial game farm animals in 1996. It transitioned to wild mule deer in 2000, and is now found in deer, elk and moose in 48 of Saskatchewan's 83 WMZs. With the help of hunters, the ministry has been monitoring the spread and intensity of CWD for more than 20 years.
Hunters can help reduce the spread of CWD to new areas of the province by properly disposing of animal carcass waste. It is best to field dress and quarter the carcass in the field instead of transporting it from the area where the animal was taken, especially from areas where CWD has been detected.
Although no human case of CWD has ever been identified, the ministry strongly recommends that hunters avoid eating the meat until they receive their test results. In addition, hunters are strongly urged not to eat, or distribute for human consumption, the meat or other parts from animals that are found to be CWD-positive.
Prior to dropping off heads, please get your CWD Tracking Number and keep that number with you. Heads can be submitted for testing at a number of designated drop-off locations across the province throughout the hunting season. The lone Southwest ministry drop off location is the Swift Current Field Office at 516 – 350 Cheadle St. W.
For information on how to submit a sample for testing, visit www.saskatchewan.ca/cwd.