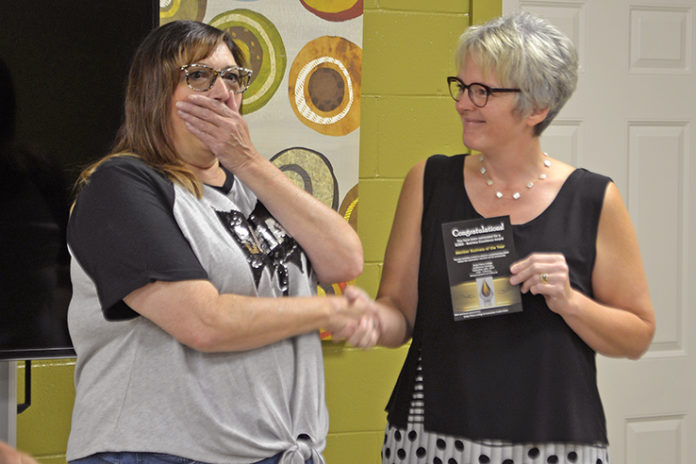 The impact of SaskAbilities in the community was a leading reason for the Swift Current and District Chamber of Commerce selecting SaskAbilities as the SCBEX Spirit of Swift Current 2018 Member Business of the Year.
SaskAbilities stepped into the SCBEX winners circle for the first time with the award, earning the first SCBEX for the organization which has been operational in Swift Current since 1965. SaskAbilities was previously a finalist in the Not For Profit Business of the Year category a year ago.
"The Member Business of the Year criteria is the number of years they've been in operation of course in our community. And also how they have grown within the community, but also how they've contributed to the community. SaskAbilities fits the bill 100 per cent," explained Karla Wiens, Chief Executive Officer of the Swift Current and District Chamber of Commerce.
Wiens noted that when the SaskAbilities name came forward at the board level during discussion for this year's awards, it was a near unanimous decision by the board to recognize them as Member Business of the Year.
"The way that they work to make our community inclusive. The volunteerism that the staff and the clients – SaskAbilities is everywhere at every event volunteering, helping. They welcome people to their facility here, with SARCAN and with Partners in Employment as well. This is a long standing cornerstone of Swift Current that definitely deserves recognition."
Wiens added that she had specifically been looking forward to their traditional surprise announcement, knowing the reaction this year's winner would be memorable.
"Clearly you can see we like to surprise our Member Businesses. I knew that these gold hearted women would be very honoured. I think the surprise is that much better."
Kimi Duzan, who has served as the Regional Director of the Swift Current Branch since 2015, was overwhelmed by Friday's surprise announcement.
"I'm honoured and taken aback by this recognition," Duzan said moments after the award announcement. "We reach far into the community to provide services – recycling, transit, helping employers find valuable employees. Those are all so many important things that we are able to do and serve and include the community in."
"To be recognized for that work, including our services to people of all abilities, is breathtaking. I'm really without words and I'm struggling to find the words that express the gratitude and appreciation I feel that reflects the energy and the focus of our team in making a difference."
Duzan also tipped her hat to Swift Current and the Southwest region for being a part of their success.
"I dwell among superheroes every day – staff, community members, people with disabilities themselves and parents, and employers and others that make such a difference – that make the community somewhere where kindness matters, where goodness matters, where that human connection is not overlooked. And I think this is the perfect place for an organization like SaskAbilities to do their best work. And it's only because of that that we have that opportunity."
Duzan was particularly excited by the Business Excellence aspect of the recognition.
"I think what's most exciting for me when I think about that is I've been a member of a Chamber of Commerce in different communities since the 1990s. And I have always felt what community based organizations like SaskAbilities bring is business. It is the heart of the community. It is the inspiration to do better."
SaskAbilities has benefited from a conscious effort to increase their profile in the community over the in past number of years.
"I'm getting feedback from people that the profile has continued to grow and be elevated, understanding more so of the work that we do and the opportunities that we create. And I'm pleased to hear that," Duzan said.
"Part of my goal coming here was to engage the team, engage the staff, the individuals we serve and their families, to say 'hey, what can we be? What does great look like?' As a collective we are very powerful. And so that is a very cool thing to have that opportunity."
"There's something happening in Swift Current that is very unique. And we want to continue to build on that. And SaskAbilities is so proud to be a part of it."
SaskAbilities will be formally presented their award at the 21st annual SCBEX Awards on October 25.
"From my perspective, being recognized as the Member Business of the Year, that those names have been put forth by your peers and your colleagues and community members, and discussed and voted on. So it's a huge recognition by not just the Chamber but the community for the wonderful things that your doing in your business and in our community," Wiens said.
"They strive for inclusion of people with all disabilities, whether they're visible or not," Wiens added. "They really welcome everyone and encourage everyone else in our community to welcome everyone. And I think that's why Swift Current is the best place to live, because of the work that SaskAbilities contributes.