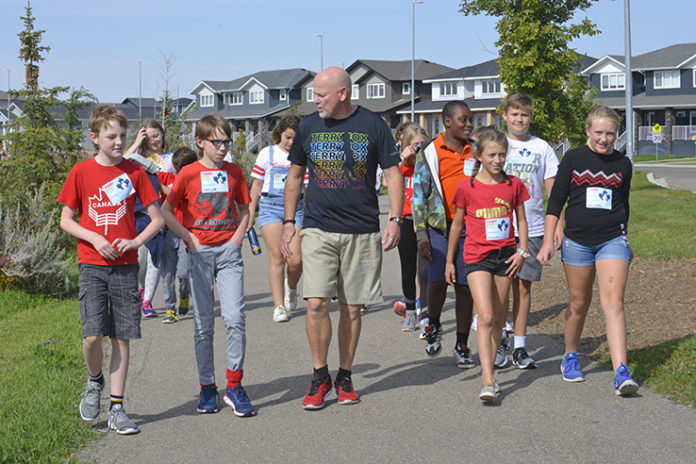 Fred Fox, the older brother of Terry Fox, shared some personal memories and insightful details of the Marathon of Hope in 1980 while making a series of stops in Swift Current earlier this week.
Fred Fox appeared at a series of Swift Current schools on Monday and Tuesday to help celebrate the Marathon of Hope legacy and highlight the importance of the ongoing fund-raising efforts of the Terry Fox Run in supporting cancer research.
"Terry wasn't running across Canada in 1980 to be known as somebody famous or to really be known as a hero. He was doing it not for himself, not to benefit in any way, not to become rich from it. Terry was doing it to make a different for other people. It wasn't called the Terry Fox Marathon of Hope. It was called Marathon of Hope. Terry would say 'if you've given a dollar you're part of the Marathon of Hope," Fred Fox told the students of Ecole Centennial School during a Monday morning assembly.
And while the Marathon of Hope began on April 12, 1980 when Terry dipped his artificial foot into the Atlantic Ocean in St. John's, Newfoundland, the now annual Terry Fox Run is instantly known even by today's students.
"I think that's Terry. The characteristics that Terry represents, the values that he believed in resonates with kids and schools. Terry is a great learning tool – working hard, don't give up. Not being the best student in class but through a lot of hard work and determination Terry was able to overcome a lot of challenges that he faces. And it's a good lesson for kids as well. They might not be the best, but a little bit of hard work and determination they can accomplish almost anything they want," Fred Fox said.
Fred Fox has been making a series of appearances on the prairies this month in connection with the Terry Fox Run. He participated in the Terry Fox Run in both Taber and Lethbridge last weekend, and he arrived in Swift Current on Sunday night in advance of two days of appearances in local schools.
"It's awesome to be here. The schools here are so supportive. The Prairie schools are awesome. The kids know about Terry," he said. "The cool thing about it for us is Terry never made it here. He only got as far as Thunder Bay. But kids are learning about Terry every year, and they're fund-raising, and making a difference."
During his school presentations he shared a story of running with Terry in Toronto during the Marathon of Hope in July 1980, where they were surrounded by thousands of people.
"I saw that determination, that commitment, in every step that Terry was taking."
However just a month later he saw the toll that the rigours of running 42 kilometres every day for 143 days, and ultimately the return of cancer, was taking on Terry.
"I can't understand what it must have taken for Terry to run that."
On September 1, 1980 the Marathon of Hope ended when Terry was taken to a hospital in Thunder Bay, where it was determined that cancer had returned to his lungs. He had originally returned home with plans to get better and finish the run. Terry Fox passed away on June 28, 1981, nine months after he was forced to stop his run in Thunder Bay.
Fred Fox recalls that passing the torch to other people to continue the Marathon of Hope fund-raising through the Terry Fox Run had Terry's input.
"It was actually Terry who came up with the Terry Fox Run happening in September because he was forced to stop in Thunder Bay on September 1."
Fox noted that he appreciates the opportunity to visit schools and talk to students and teachers.
"I enjoy meeting people after. The kids will come up and share a story every now and then about what they think about Terry. Or somebody will come up and say 'my grandmother passed of Cancer.'
"I tell the kids Terry was 18 when he was diagnosed. He didn't really know very much about cancer. Fortunately these guys do, but we talk about it more and we share about it more and every body has been touched by cancer. It's not something to be afraid of."
He enjoys hearing survivor stories during his tours, but also sharing the benefits of cancer research improvements.
"And that's what it was all about for Terry. It wasn't about Terry Fox. It wasn't about him being famous, or having schools named across the country. He wanted it to be focused on fundraising and it was about cancer research and making a difference. We have the best researchers in the world here in Canada. They have made outstanding discoveries. So cancer diagnoses in all kinds of cancers is so much better than it was before because of research."
He also highlights that Terry Fox worked extremely hard to succeed in school and in athletics, and that his example can inspire all of us to pursue our own goals.
"Terry showed us that one person can make a difference. Each and every one of you can make a difference in whatever you want to do in the future."