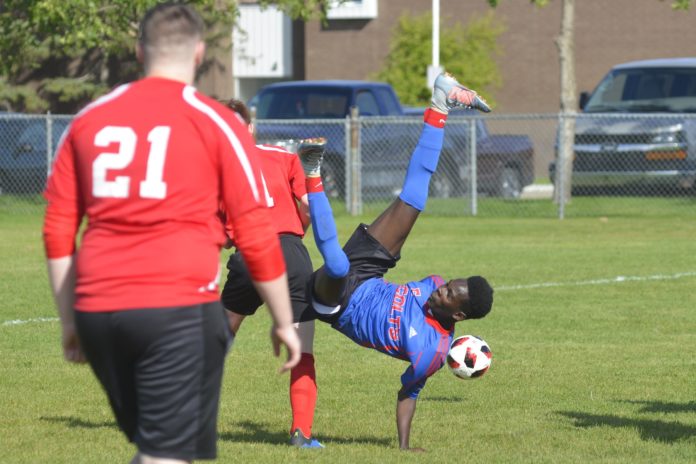 The Swift Current Comp was a busy place this past weekend. The Colt and Arden soccer teams hosted a double headers against Weyburn on Saturday. The soccer teams compete in the Moose Jaw League.
Both the Ardens and the Colts swept both games against the visiting Weyburn Eagles soccer teams. The Ardens won both games by scores of 4-1, the Colts won 6-0 and 12-3. A very strong start to the season for these soccer teams. Both teams will be competing in Moose Jaw, at Soccerfest, on Sept. 13-14. The Colt soccer team will get in two more games before that tournament. They travel to Moose Jaw Central on Wednesday and then host Moose Jaw Peacock on Thursday, Sept. 12.
The Colt football team took on Moose Jaw Central in 12 man action on Saturday. The home football team lost a very entertaining game against Moose Jaw Central. The final score was 35-30 for Moose Jaw. It is still very early in the season, but a promising start for both teams. The Colts host Moose Jaw Peacock on Thursday, Sept 12.
SWAC's 6-man and 9-man football teams will take to the field for their first league games on Friday, September 13. The Shaunavon Shadows will travel to Maple Creek. They will take on the 9-man Redmen team "under the lights". Gull Lake Lions are on the road to Viscount for 6-man action.
Saturday, Sept 14 will see SWAC's first district championship take place. The SWAC golf championship will be hosted by Ponteix. Top golfers, in grades 9 – 12, from across the SouthWest will be battling for a chance to advance to the SHSAA Provincial Championship. We are also holding a grade 6-8 exhibition golf event during the senior competition.
SWAC is holding a Volleyball Officiating Clinic on Wednesday, Sept 11 at 6:30 p.m. It takes place at Swift Current Comp lecture theatre. Pre-registration is not necessary and there is no charge to attend. We welcome anyone who wants to start to officiate this sport (or any experience officials that want to come and brush up on their skills).
Our senior SWAC volleyball league will be starting on Sept. 17-18. Girls will play on Tuesday nights and the boys play Wednesday nights. Schedules will be posted on SWAC Facebook, Instagram and twitter once they are finalized.
Follow all the happenings in SWAC sports on our social media platforms: SWACSports Facebook, Instagram and Twitter. We love the 'likes' and shares.
The Chinook School Division Sports Report is submitted by Valerie Gordon.