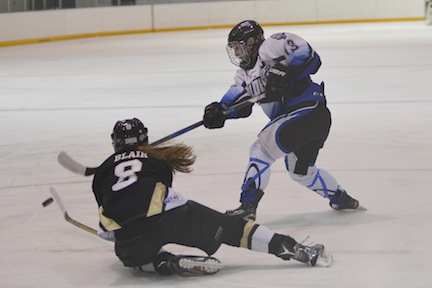 Swift Current Diamond Energy Wildcats' captain Chloe Smith was named the Saskatchewan Female Midget AAA Hockey League's 1st Star for the month of December.
The fourth-year forward registered four goals and eight assists in five league games while helping the Wildcats earn points in four of five games in the final month of 2016. She also added five goals and four assists in five games at the Mandi Schwartz Invitational tournament.
Smith was also recognized as a team leader who helps mentor younger players who are new to the Wildcats. She now has 85 points in 100 career SFMAAAHL regular season games.
"Smith is a player that the Wildcats rely on in a variety of situations as she plays a major role on the specialty teams for the Wildcats. Smith is not only an elite scorer but is very reliable defensively as she can win important face-offs, block shots and play against the opposing teams top lines," noted the award release on sfmaaahl.com.
Smith recently served as an assistant captain during her second season with U18 Team Saskatchewan. She has already committed to join the University of Saskatchewan Huskies for the 2017-18 season.