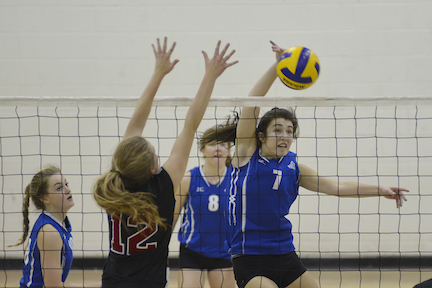 After leading the Swift Current Comp. Ardens to their first provincial girls volleyball title in school history, setter Mackenzie Froehlich will join the Minot State University Beavers for the 2017-18 season.
"I am excited I get the opportunity to continue developing and playing volleyball at the next level," said Froehlich after committing to the Beavers during the early signing period.
Froehlich said she had initially contacted the Beavers' coaching staff and then she was noticed at a volleyball camp in Assiniboia. "From there we just started talking and then he asked me to come to the university for an official visit. Then I got to tour around the university and meet the team. From there it just sort of clicked and I knew that was the place for me."
"I was looking at many other opportunities, but in the end Minot State just fit perfectly and I knew that was the place," she added.
Minot State plays in the Northern Sun Intercollegiate Conference and NCAA Division II. The NSIC is a 16-member conference with teams in North Dakota, South Dakota, Minnesota, Nebraska, and Iowa.
"It is definitely a rebuilding program. If you look at the stats Minot State isn't number one, so I am hoping I can bring something to the team and get some wins."
Froehlich is projected to set for the Beavers and said the team has one returning setter who is currently a junior.
"Mackenzie is a really smart player," said coach Ben Kaszeta in a school media release. "She's been named to Set Team Saskatchewan the last couple of years, which honors the best setters in the province. She is a great leader at both the club level and high school levels. I am really excited to see how she can help our team improve in this tough league."
Froehlich excelled in volleyball, soccer, and basketball when she entered high school, but has focused on volleyball and track and field the past few years. She was a Team Sask Volleyball member in grade 9 and in grade 11 and is currently in the tryout process for Team Saskatchewan's entry for the 2017 Canada Games.
"Definitely with the help of my parents, they gave me all the opportunities and I took them. Also with Chelsea Hassett, she coached me right from when I was in grade seven to where I am now," Froehlich said of her development on the volleyball court.
The Ardens upset a powerhouse Regina Campbell team on their home court to win 5A Girls SHSAA Provincials in November.
"It was a big deal for me being able to play four years and then pulling out the provincial title in my grade 12 year. It definitely meant a lot and I couldn't have asked for anything else," said Froehlich.
The Ardens then embarked on a victory tour of sorts, which included a pep rally at the Comp., an introduction at the Swift Current Broncos game, and a visit to City Council.
"It was all very exciting," said Froehlich.
Joining Froehlich in the Beavers' three-player recruiting class will be Regina's Sierra Paris-Kruger, a member of the Campbell Tartans.
"I think it will be good," she laughed when asked about joining a former rival. "We played Team Sask together, so we both know each other."
Froehlich plans to study elementary education at Minot State.