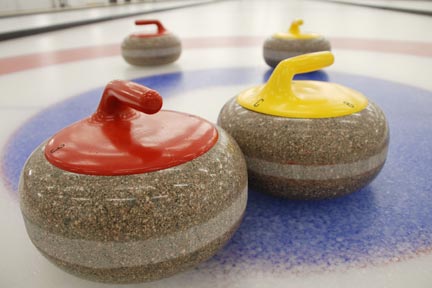 The Swift Current Curling Club is committed to ensuring that curling – one of Canada's top sports – remains a featured attraction for the community and surrounding region to enjoy. In order to raise awareness of the sport, recruit new members and gain valuable feedback as to potential development opportunities for the club, the Curling Club wishes to invite the community to take a short curling survey.
"We want to hear from the community, what their thoughts are on curling and what developments we can make as a club to welcome new people to curling", says Chairperson of the SC Curling Club Ron Eichel. "We've experienced a decline in membership, and our goal is to retain our members and recruit new ones. We believe, through community engagement, we can evolve as a club and realize growth. We hope to learn directly from our community members what we can do to encourage their participation in the sport we love."
With approximately 200 members, the Swift Current Curling Club operates a number of different leagues, including a thriving Junior Club with over 50 young curlers. The Club also welcomes special events like School Curling, Special Olympics, Company Bonspiels and Open Nights on a regular basis to encourage participation, and is home to Provincial, National, World and Olympic-level curlers. This season was a positive year for the Club's competitive group, with representatives qualifying for Senior Men's and Ladies' Provincials, High School qualifiers for Regionals, U18 and U21 team competitors, Canadian Firefighter Champions and Provincial Mixed Champions.
"Curling is a lot of fun and something that anyone can enjoy, regardless of age, ability or gender…we can all play together", says Kelly Schafer, three-time Olympian and Curling Club member. "For many reasons, we are not operating at capacity in Swift Current and we need to look for new ways to introduce people to the sport. The club is open to ideas and prepared to try new things to get as many people involved as possible. We have fantastic coaches and volunteers who are ready to meet the needs of the community, and we have such an amazing facility – unquestionably the best club ice in Saskatchewan."
The Club would like to offer a thriving Learn-to-Curl program with mini-games and leagues, newcomer lessons and shorter games so people can spend more time enjoying the après curl lifestyle in the lounge, as well as family curling and a child-friendly environment to bring your kids while you play. Additionally, the Club can offer corporate events, birthday parties, social nights out and more.
Survey participants will have the chance to win some great prizes like Western Canada Summer Games apparel and exclusive curling lessons from Olympian Kelly Schafer and Provincial Mixed Champions Team Meachem.
To participate in the short survey, please visit https://www.surveymonkey.com/r/PRG3X62 or the Swift Current Curling Club's website at http://www.sccurlingclub.ca/.