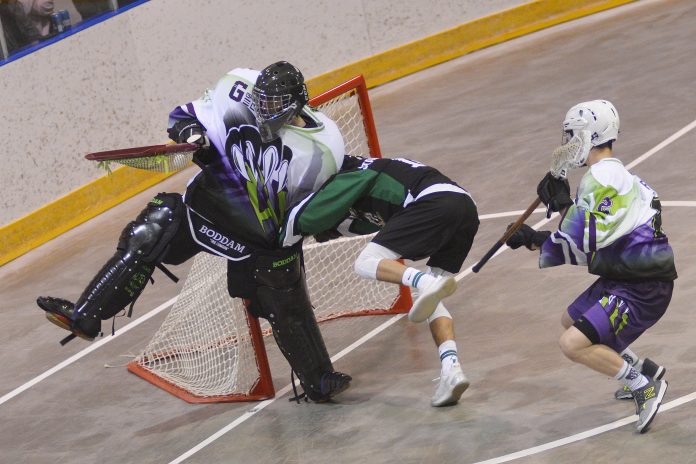 The Swift Current Wolverines may have lost on the scoresheet, but they likely scored a victory with a capacity crowd for their first ever home game in the Prairie Gold Junior Lacrosse League.
The Wolverines dropped their first home game 7-2 to the visiting Standing Buffalo Fighting Sioux before a capacity crowd at Fairview Arena on Friday.
The Fighting Sioux quieted the crowd with three quick goals in the opening moments and the Wolverines were never able to draw even on the scoreboard despite a plethora of breakaway chances as the game wore on.
"We had a good warm-up, worked really hard. We came out of the gate not really getting our legs moving, but I think we really battled the rest of the game in the second and third and really took it to them," said captain Andrew Doulias. "I think it's a learning game for all of us and we are going to come hard at P.A. tomorrow."
Doulias notched the first goal at home at the 11:52 mark of the game, but the Wolverines trailed 5-1 after one period.
They outshot the Fighting Sioux 24-23 over the final two period but were only able to score once on a Houston Finlayson goal with assists from Austin Klimm and Gordy Johner.
"Our bench management got a lot better. Guys weren't really getting down on ourselves. We didn't really rely on the coaches to tell us what we're doing wrong, we're noticing and just developing as we were going. We just kept driving," said Doulias.
The Fighting Sioux had entered the game with a 2-0-1 record.
"They definitely came out pretty hot. I think we took them for granted, that's what happened in the first there. P.A. is also going to be a battle tomorrow and we are going to come ready," said Doulias.
The Fairview Arena was packed on Friday, including a lot of high school and university aged students.
"It was unreal. I was speechless. It's awesome to see the community come together and I hope this stays a thing in Swift for a really long time."
The Wolverines will host the defending champion Prince Albert Predators on Saturday at 6 p.m. as they look to improve on their 2-1 record with seven games remaining in the regular season.
"Definitely having a really solid D, guys that are really gritty and like to hit and will just throw their bodies on the line in the house there. On offense, maybe spread it out, get the ball moving, get their goalie moving a bit and get some good shots," said Doulias.
Doulias said the team has plenty of youth.
"It's a really good mixture with the old guys and young guys, different skills sets, which really makes a special offense. I think teams are going to regret playing against us."
Doulias, 20, is proud to be part of Junior lacrosse in Swift Current in its return to the Prairie Gold Lacrosse League after the Rampage played from 2003-2009.
"It's awesome. It's something that I've wanted to do for years. The past couple years we were going to make a team. I think this is unreal that Swift has this now. I think people are going to like it and it's going to keep going for years and years."