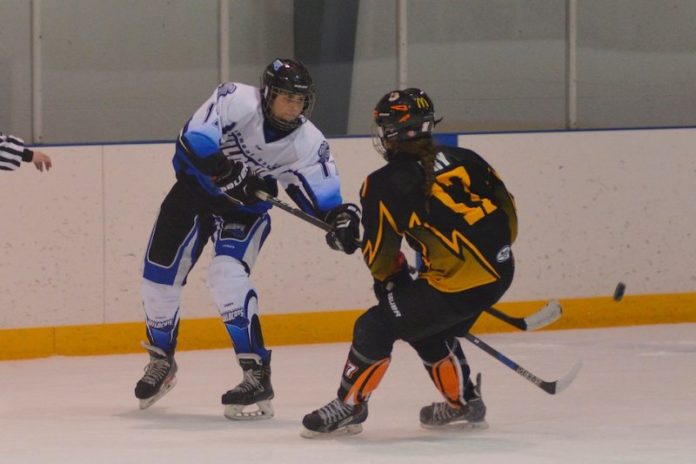 The Swift Current Diamond Energy Wildcats lost both of their Saskatchewan Female Midget AAA Hockey League games after regulation against the visiting Melville Prairie Fire.
Saturday, the Wildcats lost 3-2 in a shootout. They trailed 1-0 after one period when Allison Hayhurst scored for the Prairie Fire. Tenelle Lind scored on the power play and Chloe Smith added a goal late in the second period for a 2-1 lead. The visitors forced overtime with a shorthanded goal off the stick of Heather Fiske midway through the third period.
After a scoreless overtime period, both Megan Leblanc and Sami Jo Henry scored in the shootout for Melville, while only Shelby Ballan was able to respond for the Wildcats.
Ballan, Autumn Nimegeers, and Taylor Lind all picked up assists for the Wildcats. Harper Davey took the shootout loss with 35 saves on 37 shots.
Sunday, the Wildcats surrendered another late goal in a 5-4 overtime loss. They led 3-1 heading into the final period before surrendering goals 2:38 apart for a 3-3 tie. Janessa Fournier netted a power play goal for a 4-3 lead with 2:22 remaining, but Melville scored with only 10 seconds left to force overtime for a second straight game. Sami Jo Henry scored a power play goal in overtime to lift the Prairie Fire to another win.
Chloe Smith and Taylor Lind each finished with a goal and two assists. Tenelle Lind also scored, while Nimegeers added an assist. Davey took the overtime loss with 21 saves on 26 shots.
The Wildcats finished the weekend with a 6-5-0-6 record in fourth spot in the SFMAAAHL. Lind continues to lead all league scorers with 19 goals and 31 points in 17 games. Smith is tied for second with 25 points.
The Wildcats will host the Weyburn Wings on Wednesday at 8 p.m. at Fairview West Arena in their final game of 2016.