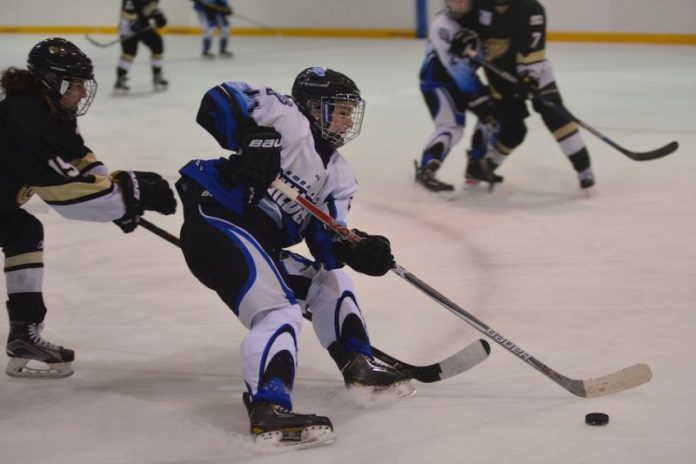 After playing close games throughout the Saskatchewan Female Midget AAA Hockey League regular season, the Swift Current Diamond Energy Wildcats closed out 2016 with a blowout win.
The host Wildcats defeated the winless Weyburn Wings 10-0 on Wednesday to finish the year with a 7-5-0-6 record in fourth spot in the eight-team league. They led only 1-0 well into the second period, but the floodgates opened with nine goals over the final 32:39, including four power play goals.
"I think we played good," said Wildcats' captain Chloe Smith after the win. "Off the start we were moving our feet. We were creating offensive plays in the zone and we were getting lots of pucks to the net with lots of presence. Once we started burying a few I think the girls got a little excited and we just kept pushing, didn't let off the gas. I think our rookie players stepped up tonight, some of them got their first goals. It was a fun game and I thought our team played well."
Rookie Taylor Lind increased her league scoring lead with four goals and two assists as she continues to lead the league with 23 goals and 37 points in 18 games. Smith moved into second in league scoring with two goals and three assists in her 100th SFMAAAHL game with the Wildcats.
Janessa Founier and Brynne Doerksen each finished with a goal and two assists. Kenedee Klevgaard registered a goal and an assist, while Maddy McCleary and Reece Girodat each had two assists. Brooklyn Colborn also scored, while Tenelle Lind, Shelby Ballan, Toni Theaker, and Taylor Kirwan all added single helpers.
Rookie Amara Lewendon stopped all seven shots she faced in her first career shutout. The Wildcats peppered Meagan Perkins with 35 shots for six goals over the opening 44:40. Myah Battersby allowed four goals on 13 shots over the final 15:20.
The Wildcats will resume their league schedule on Jan. 7-8 when the first-place Saskatoon Stars are in town.