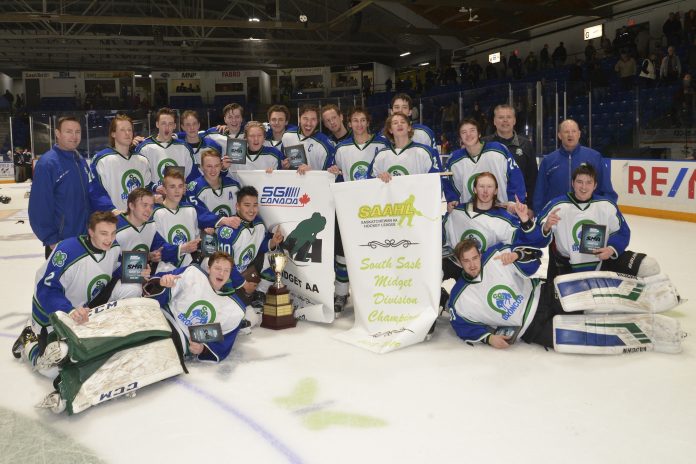 The Swift Current Abbey Resources Broncos capped a fairy tale season with a shutout win in front of a massive home crowd to win Midget AA Provincials on Wednesday.
The Broncos defeated the visiting Battleford Barons 2-0 in game three of the provincial championship series to finish the season with a 47-1 record.
The tension filled game was scoreless until midway through the final frame when veteran forward Matt Christianson blasted a slap shot from the slot past the glove of Cameron Taylor for the game-winning goal.
"Riley [Skarbon] took that shot, hit the shin pads, bounced right back out to me. I was just wide open so I let the shot go and it went it. I was excited for that," explained Christianson.
Cash Arntsen added an insurance marker into an empty net to seal the win with 1:17 remaining on the clock.
Brad Nyen stopped all 27 shots he faced to earn the shutout. "It's just pure excitement winning a provincial championship close to my hometown," said Nyen, who finished a 0.986 save percentage during his two appearances in the final.
The Broncos lifted the Jack Loveridge Memorial Cup trophy as the Midget AA provincial champions, becoming the first Swift Current team to do so since 1976. They won the opening 45 games of the season before dropping game one to the Barons on home ice.
"It's awesome," said rookie blueliner Levi Brewer. "We worked hard all year for this. Our dryland, we were conditioned well. We worked out asses off to get here. It was just an honour to win this here, with this crowd here, to win it at home, we couldn't have scripted it better. It was an amazing season. It's a surreal feeling right now."
"It's pretty exciting getting the win working so hard all season long for this," added. Christianson. "It's such a relief to work hard the whole season and come out with the Provincial Championship."