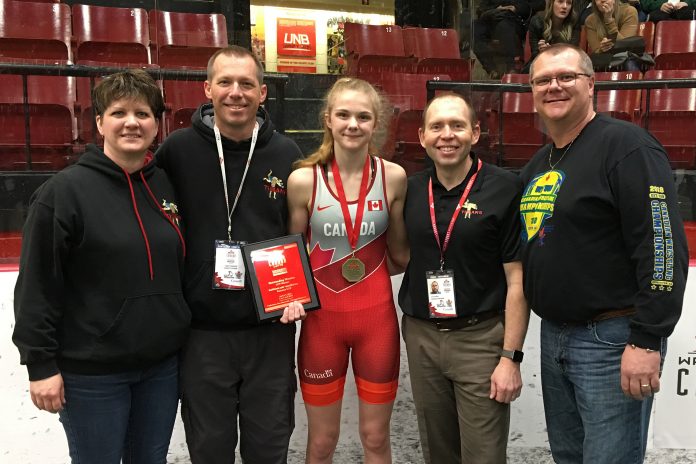 Aleah Nickel won a pair of national titles and two outstanding wrestler awards to add her growing resume in Fredericton, NB over the weekend.
Nickel won four straight matches at the 2019 U17/19 Canadian Wrestling Championships to win her second straight national title on Saturday.
The Swift Current Titans Wrestling Club athlete defeated Ontario's Mia Friesen by Tech Fall 12-0 to cap off her second straight U19 Freestyle -61KG national title.
Nickel had a bye to begin the 18-wrestler event. She opened her day with a victory by Fall at the 1:38 mark of her opening match over Sarnia's Brianna Fraser. She added a 12-0 Tech Fall win over Alberta's Mackenzie Lane.
Nickel continued to cruise through her title defense with a 12-2 Tech Fall victory over Pacific Rim Wrestling's Jade Trolland in the semi-final as she was named the U19 Outstanding Wrestler of the Tournament.
"My coaches, my teammates, my parents, they've all put in so much time and dedication towards me in the sport, and for me to be able to prove that it wasn't a waste of their time feels amazing," said Nickel on Wrestling Canada Lutte's twitter page following the victory.
Nickel strung together three more victories on Sunday to win the U19 -61KG Greco-Roman championship and was also named the event's Outstanding U19 Wrestler in her first attempt at Greco-Roman. She opened the day with a victory by Fall at the 0:46 mark over Sudbury's Brady Grace Martin. She met Black Bears Wrestling Club's Brooke Sacobie in the semi-final and advanced due to injury.
Nickel wrapped up her unbeaten weekend with a 9-1 win by Tech Fall over Cowichan Valley's Miaya Brownbridge.
The national titles capped another incredible season for Nickel as she recently won a second straight Saskatchewan High School Athletic Association provincial title, another Saskatchewan Amateur Wrestling Association provincial title, and a silver medal at Junior Nationals.
Nickel recently committed to wrestle for the University of Alberta Pandas next season.
Two other members of the Swift Current Titans Wrestling Club were also in action on Friday.
Sebastien Marchand represented the Titans in the U19 Freestyle 71 KG Division. He won his opening match 12-2 by Tech Fall over Cowichan Valley, BC's Dawson Jory.
He was knocked out of the championship bracket by Olympia Wrestling's Armaan Malhi by Fall at the 0:48 mark.
Marchand lost his consolation match by a 10-4 Decision to Coast Wrestling's Chris Katsiamitas.
Luke Nelson took to the mat on Friday in the U17 Freestyle 71 KG Division. He had a bye in the opening round before beating Warriors Wrestling's Jagtaj Basra by Fall at the 2:56 mark.
Nelson was edged 8-7 in his next match by Woodstock, Ontario's Ryan Fowler.
Nelson rebounded in the Consolation Event to win his next two matches. He won 10-0 by Tech Fall over Alberta's Declan Cayanga and then defeated British Columbia's Alex Anderson 10-0 by Tech Fall to reach the consolation final.
Nelson dropped his final match 10-0 by Tech Fall to Yann Heymug from Quebec to place fourth overall.
Nelson was also in action in the U17 Greco-Roman event on Sunday but lost matches to the Junior Dinos' Owen Gudmundson and Team Discipline's Gavin Priest.