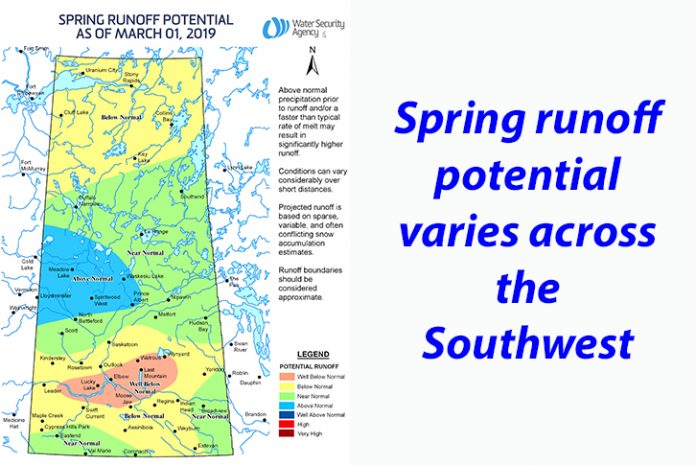 Southwest Saskatchewan can expect anywhere from near normal runoff to well below normal runoff according to the most recent forecast issued by the Water Security Agency.
Earlier today the Water Security Agency released their latest Spring Runoff forecast, and the March 1 report is forecasting little chance of spring flooding across the majority of the Southwest.
The highest runoff totals are expected in the extreme southern portion of the Southwest, but only near normal runoff potential exists for an area which includes Eastend, Val Marie and Coronach.
The majority of the remainder of the Southwest can expect below normal runoff, while some areas along the South Saskatchewan River can expect well below normal runoff.
In their forecasts for the Swift Current Creek and Rush Lake Creek, their data shows the snowpack in the basin is near normal so a near normal runoff is expected. They also noted the Highfield Reservoir is approximately 50 per cent full and may not fill in 2019.
The Water Security Agency overview of their forecast notes that cumulative snow accumulations in the Southwest were near or slightly above normal.
"Some agricultural water supply issues began to emerge in late summer 2018. With below average 2019 snowmelt runoff projected across most of southern Saskatchewan, these water supply shortages may intensify and expand to additional areas in southern Saskatchewan and may begin to threaten some municipal water supplies," the report notes.
In the Water Supply Outlook portion of their report, the Water Security Agency notes that most reservoirs and dugouts went into winter at slightly below average levels.
"Consequently, with a below normal runoff, some surface water supplies are expected to be of concern in 2019. It is important to understand that the vast majority of prairie runoff occurs as a result of snowmelt. Summer rains typically only generate appreciable runoff when conditions are wet (approximately 10 per cent of years). When soil conditions are dry, it takes significant rainfall to produce runoff; therefore, unless there is appreciable precipitation in March and April, it is likely there will be limited surface runoff in 2019 over much of southern Saskatchewan and the focus will need to be on storage during the spring melt."