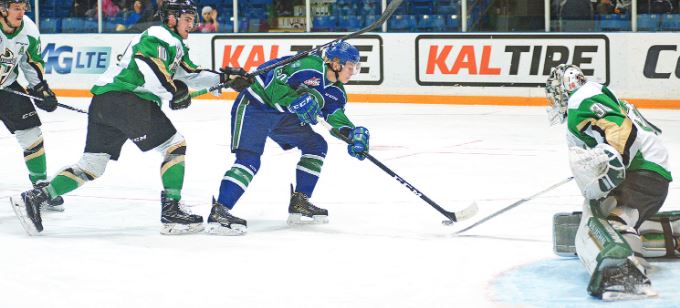 The Swift Current Broncos won
their final three games heading into
the holiday break as they took ad-
vantage of a couple opponents well
below them in the standings last
week.
The Broncos got back into the win
column on Wednesday with a 5-2 win
over the Kootenay Ice in Cranbrook.
The Broncos received goals from
five different players and points from
11 skaters, led by a goal and an assist
from Cole Johnson in his first game
back from injury.
The Broncos fell behind in
the opening minute when Vince
Loschiavo scored for the Ice. They
responded with goals from Conner
Chaulk and Ryan Graham, but Matt
Alfaro replied for the host team for a
2-2 tie after one period.
Tyler Steenbergen and Johnson
both scored in the second period,
while Aleksi Heponiemi added a
third-period marker.
Travis Child made 21
saves on 23 shots to im-
prove to 9-2-0-3. Payton
Lee made 38 saves on 43
shots in a losing cause for
the Ice.
Friday, the Broncos let
the visiting Prince Albert
Raiders hang around
before scoring the final
three goals in a 4-1 win.
The Broncos got goals
Sahvan Khaira, Hepon-
iemi, Graham, and Lane
Pederson. Khaira scored
the opening goal, added
a fight with Swift Current
native Tim Vanstone, and
assisted on the insurance goal for the
Gordie Howe hat trick. Steenbergen
picked up three assists in the win.
Child made 20 saves for his 10th
win of the season. Nicholas Sand-
ers took the loss with 37 saves on 40
shots.
Saturday, the Broncos picked up
their third straight win, defeating the
Raiders 4-2 in Prince Albert.
The Broncos allowed two early
goals from Loch Morrison and Max
Martin, but responded after Taz Bur-
man replaced Travis Child in goal.
Kole Gable and Heponiemi re-
sponded for the Broncos to tie the
game 2-2 before the end of the open-
ing period. Gable scored again in the
second period for a 3-2 lead after two
periods.
Austin Glover tied the game for
the Raiders in the third period but
defenseman Kade Jensen quickly re-
stored the lead with the game-win-
ning goal.
Burman got the win with 16 saves,
while Ian Scott made 31 saves in a
losing effort.
The Broncos enter the holiday
break with an 18-10-3-4 record after
moving to 5-0 against the Raiders
this season.
The Broncos now have nine days
off for the holiday break. They will be
back in action on Dec. 27 when they
host the Moose Jaw Warriors, fol-
lowed by a return visit to Moose Jaw
the following day.
Bronco Bits:
Captain Glenn
Gawdin returned to the line-up in
Cranbrook after missing 17 games
due to injury and had two assists and
a plus-five rating in three wins.