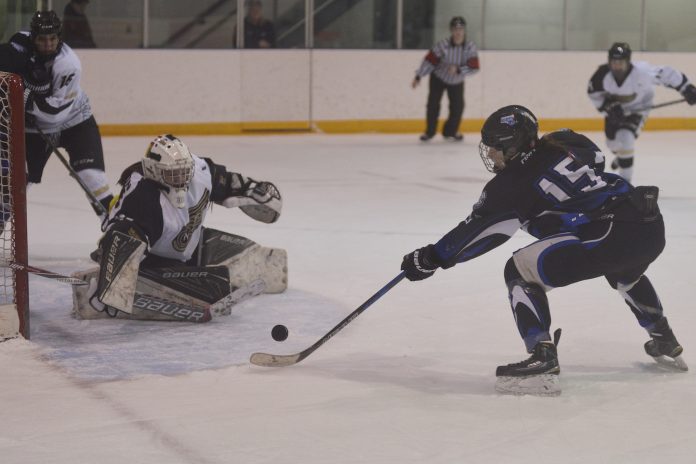 The Swift Current Diamond Energy Wildcats took care of business in a weekend sweep of the last-place Weyburn Wings to clinch third spot in the Saskatchewan Female Midget AAA Hockey League.
The Wildcats outscored the visiting Wings 12-1 during two victories to conclude the regular season.
Saturday, the Wildcats scored the opening six goals in a 6-1 win over the visiting Wings. Taylor Lind and Sara Kendall each scored twice, while Brooklyn Rublee added a goal and an assist and Crystal Wale registered a pair of assists. Tobi Fontaine also scored, while Brynne Doerksen, Ryleigh White, Shelby Rublee, Layne Hryhoriw, and Baylee Kirwan all added assists.
Harper Davey earned the win with 21 saves. Daneka Dickson made 37 saves for the Wings, who got a late goal from Dakota Brewer to spoil the shutout bid.
Sunday, Davey made 20 saves in a 6-0 shutout of the Wings in another penalty filled contest. Lind finished the game with three power play goals and one assist as the Wildcats scored four goals with the man-advantage.
Kirwan added three assists, while Kendall finished with a goal and an assist. Ashlee Wolfe and Carissa Hogan also scored. Doerksen, Wale, Maddy McCleary, and Hryhoriw all added assists.
The Wildcats finished third in the eight-team league with a 15-10-2-1 record after winning their final three games of the regular season. They finished 2019 with a 9-1-2-0 record.
The Wildcats will now face the sixth-place Battlefords Sharks (7-13-4-4) in the opening round of the SFMAAAHL playoffs.