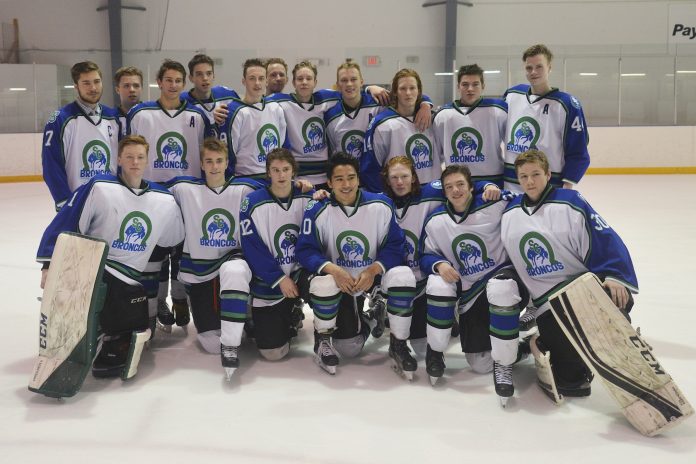 The Swift Current Abbey Resources Broncos completed a perfect regular season in the Saskatchewan Midget AA Hockey League in fitting fashion with a 4-1 win over the Notre Dame Argos on Friday.
The Broncos got out to a nervous start during a scoreless opening period. They outshot the upset-minded Argos 50-11 over the final 40 minutes for a 58-18 final total as they simply wore down the opposition with depth and a heavy fore-check.
Defenseman Ryan McCleary scored twice and Brock Oberle and Cash Arntsen added singles as the Broncos finished with an incredible 36-0 record. Brad Nyen earned the win with 17 saves.
"Overall it is awesome," said McCleary. "We grinded the whole year. A lot of work, a lot of close games and we just got it done."
"It is amazing for them," said head coach Todd Hornung. "It's a little bit surreal. We just talked that we almost lost game one in Yorkton, so there's a lot of things that have to come together for us to get to this stage and go undefeated. I am so proud of the boys and happy for them. They've put in so much time. It is a complete team effort all the way through our line-up."
"Yeah we've got three strong lines on forward and three strong pairings of D. We just overwhelm teams over and over. We just pound them into the ground," said McCleary.
The Broncos will now face the Melville Millionaires in the opening round of the playoffs, beginning Sunday at 3:15 p.m.
"It's pretty good," said McCleary of the team's confidence level. "We haven't lost to any of the teams, so we have confidence over them. We just have to keep moving forward and keep doing what we have been doing."