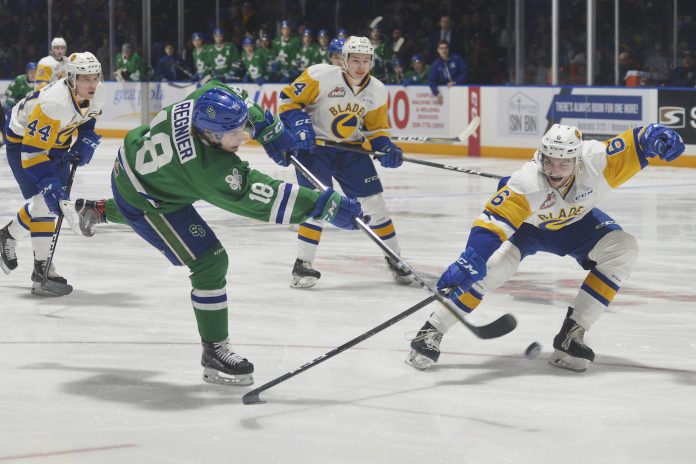 The Swift Current Broncos came up short against the visiting Saskatoon Blades in a 4-1 loss during Scotiabank Hockey Day in Canada on Saturday.
The Broncos gave the Blades a good battle before allowing three unanswered goals over the final 11:26.
"We came together and had a good bounce back from past night," said veteran forward Ethan O'Rourke. "We battled hard to finish off the game in Brandon. I think the score doesn't reflect how really well we did play tonight. We got some unlucky bounces. We gave it a good push, but we just didn't get the result."
The Blades outshot the Broncos 12-6 during a scoreless opening period.
Gary Haden continued his hot play against the Broncos when he opened the scoring 9:29 into the second period with a rebound goal. The Broncos needed only 43 seconds to tie the game when Tyler Lees knocked a puck into an open net for his first goal as a Bronco.
The Blades took a second lead midway through the third period when Riley McKay tucked a wraparound in for his ninth goal of the season. Max Gerlach scored a breakaway goal with 2:14 left to close the scoring. Cyle McNabb scored into an empty net in the final seconds.
Rookie Isaac Poulter took the loss with 34 saves to fall to 2-14-0-0. Nolan Maier earned the win with 24 saves.
The Broncos fell to 10-38-2-2, while Saskatoon improved to 33-13-8-0.
The Broncos will host the league leading Prince Albert Raiders on Wednesday.