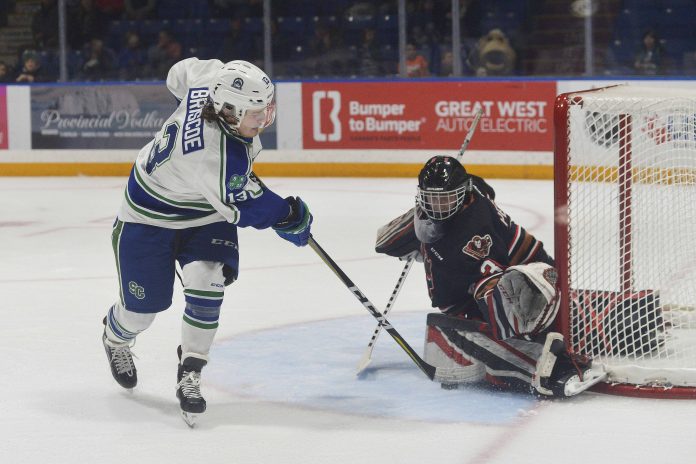 The Swift Current Broncos were slow out of the gates in a 6-2 loss to the visiting Calgary Hitmen on Wednesday.
The game was essentially over in the opening period when the Hitmen scored four goals on 18 shots. Cael Zimmerman opened the scoring only 3:29 into the game. Ethan O'Rourke put a rebound home for his fifth straight game with a goal midway through the period to tie the game.
The Hitmen quickly responded with goals 18 seconds apart from Layne Toder and James Malm and then Luke Coleman scored on the power play with 35 second left in the period to put the game out of reach.
The Broncos cut into the lead in the second period when Ian Briscoe buried a power play goal from just above the goal line only minutes after he had been stopped on a power play chance.
Malm added his second goal of the game on a breakaway 5:18 into the final frame. Kaden Elder added a power play goal against his former team midway through the period.
Broncos starter Riley Lamb fell to 2–2-0-0 with 14 saves on 18 shots in the first period. Rookie Isaac Poulter worked the final 40 minutes and made 23 saves on 25 shots. Brayden Peters made 30 saves in his WHL debut for the Hitmen.
The Broncos fell to 10-35-2-1, while the Hitmen improved to 25-19-3-1.
The Broncos will head west this weekend for games against the Lethbridge Hurricanes and Kootenay Ice.