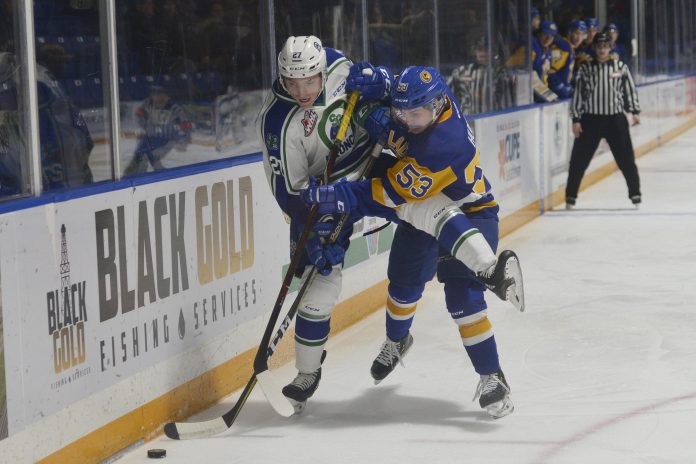 The Swift Current Broncos remain winless against the Saskatoon Blades in five attempts this season after a 5-2 loss on Friday.
Gary Haden scored four goals to hand the Broncos their fourth straight loss. Haden, 19, had entered the game with 16 goals in 43 games.
The Blades needed only 13 seconds of power play time for Haden to score midway through the first period. The Broncos replied three minutes later when Ethan O'Rourke tipped home a Connor Horning point shot for his seventh goal of the season and fourth in the past five games. Tanner Nagel converted an Ethan Regnier centering pass with only four seconds left in the period for a 2-1 Broncos lead.
Things unraveled in the second period as the Broncos allowed four unanswered goals. Haden added goals 2:35 apart early in the second period to give the Blades the lead. Haden added a deflection goal midway through the period to make it 4-2 for the natural hat trick over 7:24 of action. Eric Florchuk added a late goal to close the scoring.
Isaac Poulter made 40 saves while falling to 2-12-0-0. He made a blocker save on Haden on a penalty shot late in the first period as well. Nolan Maier improved to 24-9-5-0 with 20 saves.
The Broncos fell to 9-34-2-1, while the Blades improved to 29-13-6-0 to sit second in the East Division.
The East Division rivals will rematch Saturday in Saskatoon.