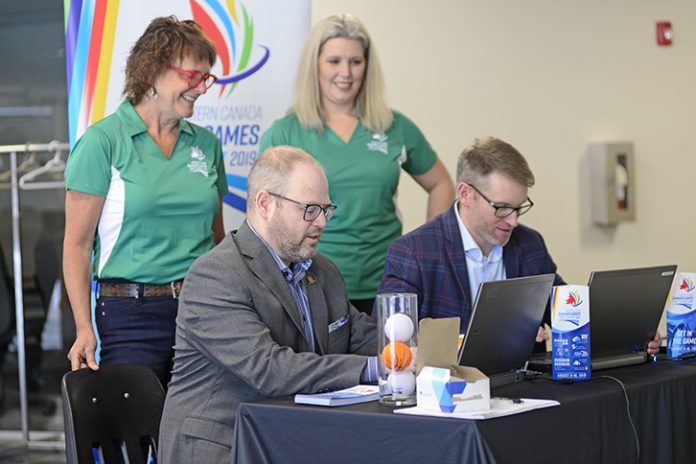 A major volunteer recruitment drive is now underway to find the manpower needed to help make the 2019 Western Canada Summer Games a success.
The 2019 Western Canada Summer Games will be held in Swift Current on August 9 to 18, with 1,700 athletes competing in 16 sports, along with thousands of other visitors including spectators and officials.
And while the Games have 16 sports, volunteers are invited to participate in the 17th event, the 2,000 Metre Race which is a volunteer recruitment initiative highlighting the 2,000 volunteers needed to make the event a success.
"It's a wonderful new event that we can all participate in as volunteers of the Summer Games," 2019 Western Canada Summer Games Director of Volunteers Sheena Gatzke said during a Monday press conference. "We already have more than 250 dedicated volunteers and many have been working for months, and almost years, in planning and strategic roles. Now we're in a race to recruit at least 1,700 more volunteers to help this be the best Western Canada Summer Games in history."
This widespread call for volunteers is looking for a 24 hour volunteer commitment to lend a hand before, during and following the 10 day competition which is now less than eight months away. The Games will be the largest event hosted in Swift Current history.
"Try to imagine for a moment the sheer magnitude of this event. The people power required to support 1,700 athletes across 16 sports, 13 venues, four cultural evenings, in the span of 10 days."
"Southwest Saskatchewan is no stranger to hosting sporting events. We host ball tournaments, golf competitions, swim meets, volleyball tournaments. Now we need to be amazing at all of those at once, plus 12 additional sports."
The volunteer sign up website, available on the main Games site 2019wcsg.ca, has interest sections including: athletes village; ceremonies, culture and protocol; event services, facilities, food services, Friends of the Games, information, communications and promotions; medical services, pre-Games availability; transportation, and volunteer services.
"We need set up and tear down of sports fields of play, we need scorekeepers, announcers, ball kids, runners, lifeguards, results recorders, not to mention all of the minor officials and referees needed by each sport," Gatzke elaborated. "We need seamless IT and communications connectivity and support across all venues."
"We need event services hosts, access control, accreditation management, and spectator marshalling across all our venues. We will also need help with ticketing, and public information hosts to assist locals and visitors alike."
The volunteer recruitment also needs support for behind the scenes jobs which includes sanitation and housekeeping, warehousing and materials management, media, marketing, communications. There is also a need for registration and accreditation support, uniform distribution, information and help desk for volunteers.
Individuals signing up to volunteer can also indicate the time of day they are available and specific dates they can work during the Games.
Gatzke highlighted that a volunteer does not need to be a sport enthusiast to help out with the Western Canada Summer Games.
"There are plenty of opportunities that are outside of the sporting world. We need to feed them. We need to take tickets. We need to do all kinds of different work. So there's lots of opportunity, even if you're not sporty."
The Summer Games online volunteer registration system is now active, simply by clicking the "Get Involved" tab on the website www.2019.wcsg.ca. People are required to provide personal information along with contact details. A Criminal Record check and Vulnerable Sector check is required for all volunteers age 18 and over.
There are also opportunities for youth aged 13 to 17 to lend a hand. Gatzke noted that they have received the go ahead from the Chinook School Division for high school students to earn their volunteer hours during the Games in advance of their wellness classes in the 2019-2020 school year.
"I would encourage you, if you have youth at home, to get them involved. This is an event for youth, and so it's kind of neat to have youth supporting each other."
"I'm excited about our opportunities. I think the nice thing is that we can engage our youth. There's a lot of them that have some time in the summer that can help us out."
With close to 300 volunteers already signed up, this latest effort has them now reaching out to surrounding communities to help out as well.
"I think given the fact that this event has never been before, and maybe will never come again, people will want to get involved with a once-in-a-lifetime opportunity," she noted.
Swift Current Mayor Denis Perrault was confident the volunteer recruitment effort will be successful.
"I would be very surprised if we're not going to be able to hit this goal of 2,000 volunteers," Mayor Perrault said at Monday's launch. "Our community enjoys being a part of things. Our community wants big events to come here. And I know that members from all across our demographics, from all across the Southwest, are going to be choosing to sign up to our website so that they too can be a part of something like this."
And while the recruitment drive will be a test of Swift Current's volunteer spirit, again he said the community is up to the task.
"It's a test, but I know we're going to step up for it. It's going to be a great chance for us to help put Swift on the map yet again," Perrault said. "We're a community that likes being a part of something and we're a community that likes big things. So I think these are all perfect reasons why we're very happy to be hosting something as big as the Western Canada Summer Games."
He is also looking forward to the various impacts on the community resulting from hosting the Games. The beach volleyball courts and mountain bike track built for the Games are being utilized by local individuals, and the refurbished tennis courts will also attract more people when they are open in the spring.
"I'm hopeful that these type of events are going to get kids interested in some different types of sports, and help see all of our facilities be used long term in the future. That's the lasting benefit I think we're going to see is we're going to see kids getting into the game and kids getting excited about sport."
Swift Current will also benefit from the event when hotels and restaurants are packed, retail stores are experiencing high sales, and the entire city is buzzing with activity.
Hosting another successful event will also enhance Swift Current's reputation for delivering calibre events.
"I believe Swift Current is well known throughout a lot of these big committees and a lot of these sports entities as being a welcoming place for bringing events. Our community likes being a part of them. They like attending them. They really enjoy being volunteers and being a part of them. So I believe that's what we're starting to see. That lasting impact is that we're a welcoming community and we want more things here and more things happening. So we're just absolutely thrilled for what 2019's going to be."
Swift Current MLA Everett Hindley also spoke at Monday's volunteer recruitment launch. He noted the Government of Saskatchewan has made an investment of $1.5 million for the administration and delivery of the Games.
"We see it as an important economic driver for our community," Hindley said, noting there is an anticipated $2 million economic spin-off projected for Swift Current and surrounding area. "We see this as an important opportunity to showcase not just Swift Current and surrounding area, but the province of Saskatchewan as well."
Hindley was also confident the volunteer mobilization effort will be successful.
"That's how you make these sorts of events a success. Swift Current and Southwest Saskatchewan is no stranger to this. We've done this before on numerous events. You look at the World Women's Curling Championships on a couple of occasions, and any number of other sporting events that have taken place in Swift Current and surrounding areas. So I think that our city and our area has the capacity to do this, and we're encouraging everyone to get involved."