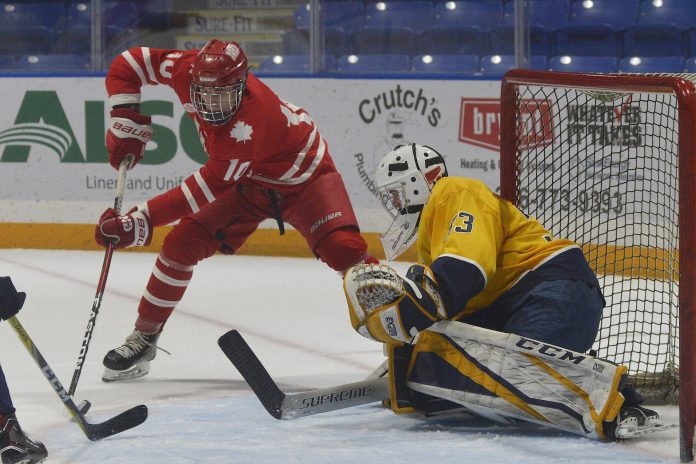 The Swift Current Home Hardware Legionnaires overcame a slow start to erase a 4-1 deficit before losing 5-4 to the visiting Notre Dame Hounds on Tuesday.
Keaton Sorensen scored only 52 seconds into overtime when he got behind the Legionnaires for a breakaway goal.
The Legionnaires had opened the scoring with a Jaxon Martens goal midway through the first period. Kyle Bochek quickly replied for the Hounds for a 1-1 tie after one period.
The second period was a wild special teams battle as the two teams combined for three power play and two shorthanded goals.
The Hounds scored a power play goal before adding two shorthanded goals on the same penalty kill for a 4-1 lead. The Legionnaires changed goaltenders, called a timeout, and then Logan Linklater scored on the same power play to cut into the deficit.
Mason Strutt added a shorthanded goal to bring the Legionnaires within one goal after two periods.
Defenseman Hendrik de Klerk sent the game to overtime when he wired the puck off the crossbar and in on a power play rush with 5:43 remaining in regulation.
Ethan Hein made the start and allowed four goals on nine shots over 24:02. Jacob Herman made eight saves on nine shots the rest of the way. Thomas Wardle earned the win with 19 saves for the Hounds.
Strutt added two assists for a three-point outing. Kersey Reich also registered two assists, while Linklater and Rhett Evjen added singles.
The Legionnaires fell to 21-10–2-0 in the Saskatchewan Midget AAA Hockey League, while the Hounds improved to 17-10-2-2.
The Legionnaires are at home this weekend to host the Battlefords Stars.