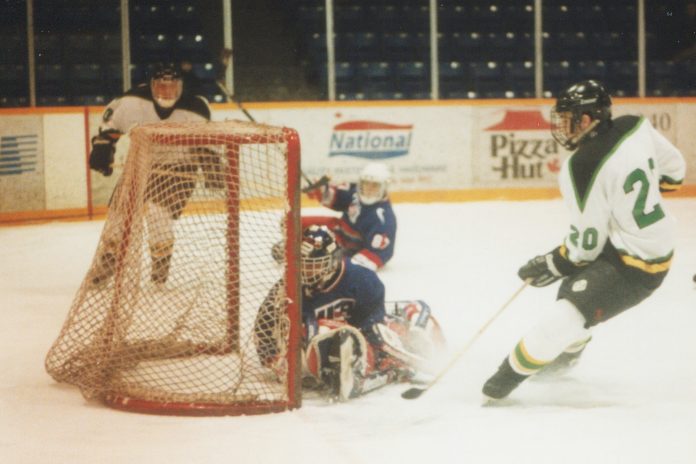 The local hockey community was abuzz on Wednesday when Swift Current was finally officially announced as one of the co-hosts of the 2019 World Under-17 Hockey Challenge with Medicine Hat.
Swift Current previously hosted the tournament in 1998 when Team Saskatchewan won gold with a 5-4 comeback win over the United States at the Centennial Civic Centre.
There is likely no one in the Southwest who has fonder memories of that tournament than Brandin Cote, the current Swift Current Broncos first-year assistant coach. Cote scored the gold medal winning goal in the city that he grew up in on the same ice where his dad once played for the Broncos.
"It was a great. We had a really good team, a lot of guys that had kind of grew up with each other and played together. We had a few guys from Yorkton on our team, I was playing in Yorkton just previous to that with Derek Halldorson and Jarret Stoll and few other guys that were from fairly close proximity and we had all known each other growing up," said Cote, 37.
Saskatchewan was second in the six-team round robin with a 3-2 record, including a 6-1 loss to the Americans, who finished 5-0 with 28 goals for and only 11 against behind the play of netminder Rick DiPietro, who two years later was the first overall pick in the 2000 NHL Entry Draft.
"We were pretty big underdogs going into the final against the United States with Rick DiPietro and I can't even remember who else they had, but they had some pretty high end guys," explained Cote. "We just went into it with kind of a Canada versus USA mentality. We got down early and it didn't look very good."
Cote said they called the illegal stick penalty twice on Rick DiPietro in the third period and connected for power paly goals to get back into the game.
"That's unheard of anymore. But back then it was still widely used. Whether or not it was cheap to do, our coach was Brad McEwen at the time, we pulled out all the stops and it ended up going our way."
Cote said they tied the game with just a couple minutes remaining in regulation after trailing 4-1 earlier in the period, setting the stage for his game-winning goal with nine seconds left on the clock.
"Clay Thoring chipped it off the boards right by the Broncos bench. I went on a two-on-one with Derek Halldorson. I actually tried to pass it across and it went off, the D-man slid and it went off his shin pad or skate and DiPietro was pushing across to take away the two-on-one pass, the backdoor play, and it just went through his legs," said Cote.
"In those moments you kind of black out. I remember skating around the net and everybody chasing me. I think I dove on my stomach and everyone jumped on me in a bit of a dogpile. It was pretty crazy," he added.
Cote would experience a great deal of success on the ice over the next few seasons while playing for Mike Babcock and eventually captaining the Spokane Chiefs during a five-year WHL career.
"For me it was a stepping stone. I had a lot of confidence going into the last part of my year in Spokane as a 16-year-old and we played in the Memorial Cup that year. I got the opportunity, a lot of it based on my performance at this tournament, being a leader, I was the captain of that team, I got a chance to play for Canada at the Under-18's later the next fall in Bratislava where I won another gold medal with Team Canada."
Read the January 24 edition of the Southwest Booster for the complete story.