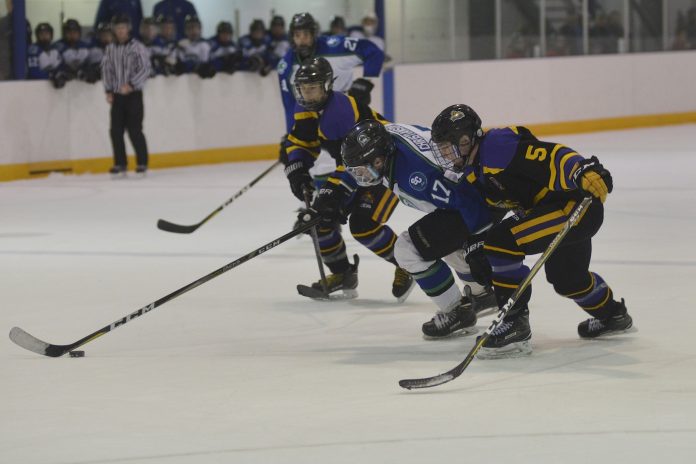 The Swift Current Abbey Resources Broncos had an eventful weekend in the Saskatchewan Midget AA Hockey League as they added blowout and overtime victories to move their unblemished record to 28-0 this season.
Saturday, the Broncos continued to cruise along with an 8-0 win over the Lumsden/Bethune Lions. Justin Dueck improved to 14-0 with his third shutout of the season as he lowered his goals against average to 1.21.
Quinn Patenaude led the Broncos with a goal and two assists. Nathan McInnis, Beau Larson, Cash Arntsen, and Ryland Hornung each added a goal and an assist. Hunter Johnson, Riley Skarbon, and Matt Christianson also scored. John Priela registered two assists, while Kaden Floberg, Ryan McCleary, Levi Lamotte, Brock Oberle, and Levi Brewer all added single helpers as 15 of 16 skaters registered at least one point.
Sunday, the Broncos got one of their toughest challenges of the season but found a way to keep the winning streak going.
Veteran defenseman Nathan McInnis wired a puck off the back bar with 1:48 remaining in overtime to lift the Broncos to a 4-3 overtime win over the Lions.
The power play goal came on the rush as the Broncos improved to 28-0 in dramatic fashion on McInnis's second goal of the contest.
"It felt good obviously," said McInnis. "To get two points feels even better to keep the streak rolling."
Priela and Lamotte also scored. Christianson and Hornung each had two assists, while Larson, Brewer, and Patenaude also added singles.
Brad Nyen earned the overtime win with 23 saves over 63:12 of work.
It was the Broncos first close game in a while.
"I felt like everyone had more energy and the fans were just getting us hyped up," said McInnis. "It felt better having a close game than just blowing teams out."
The Broncos trailed 2-1 after one period and were tied 3-3 heading into the third.
"I just thought we played tight defensively, tried to get everything through. I thought we just kept our mindset and strategy. I thought we played well going into the third," said McInnis.
McInnis said the streak is something the team is thinking about as the regular season winds down.
"Yeah it's always in the back of our heads all the time. We just need to go into the playoff and just keep it rolling there. It doesn't really matter what happens in the regular season here."
The Broncos have depth up front, on the blueline, and even in goal.
"We just have so much depth. Every night there's guys doing their job every time. Every line can score and they can do everything. We don't really have much weaknesses on our team," said McInnis.
The Broncos are on the road for three games this weekend, beginning Friday in Lumsden. They also visit the Melville Millionaires on Saturday and the Regina Vics on Sunday.