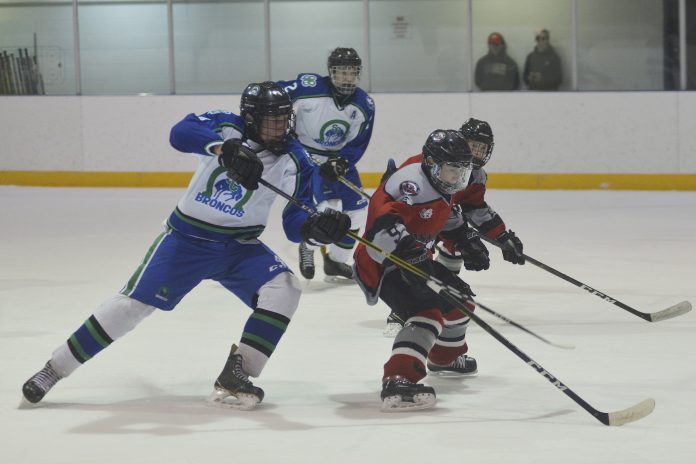 The Swift Current Pure Chem Broncos split a weekend home stand in the Saskatchewan AA Bantam Hockey League.
Friday, the Broncos lost 5-3 to the visiting Saskatoon Outlaws despite outshooting them 36-18. Kalan Lind finished with a goal and an assist, while Rylan Silzer finished with two assists.
Colton Leahy and Dayne Feicht also scored. Kane Klassen, Rhett Dekowny, and Rylan Williams all added assists.
Saturday, the Broncos rebounded with a 6-2 win over the visiting Weyburn Wings. Colby Watson picked up the win with 23 saves on 25 shots.
Dayne Feicht paced the attack with three goals and one assist, while Lind totaled a goal and three assists. Rowan Priebe added a goal and an assist.
Dekowny also scored, while Nolan Stevenson, Riley Bowers, Leahy, Williams, and Daniel Ganert all added assists.
The Broncos finished the weekend with a 9-7-1-0 record.
The Bantam Broncos are on the road this weekend for two games. They visit the North East Wolfpack on Saturday and the Humboldt Broncos on Sunday.