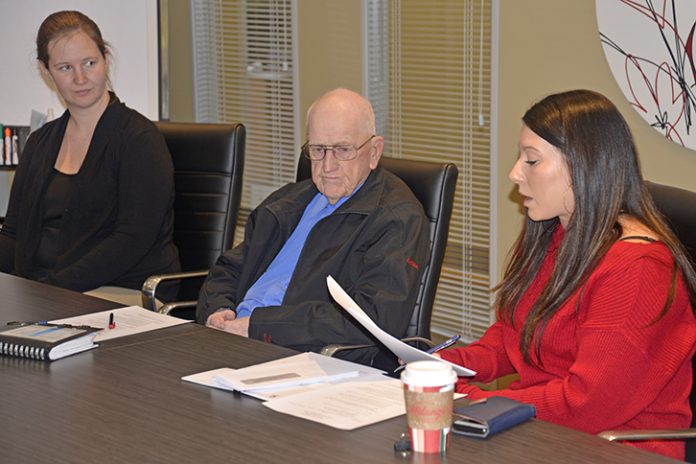 The Swift Current United Way will be ceasing operations effective December 31.
A special United Way board meeting was held on Wednesday to formally approve the resolution to voluntarily dissolve. The member agencies were part of the official decision to voluntarily close at the end of the month.
Stacey Schwartz, Executive Director of the Swift Current United Way, explained that since 2012 their operational costs and staffing funding was covered thanks to a bequest from the John "Jack" Pratt estate. That arrangement allowed 100 per cent of donations and fund raising dollars to go to the agencies they support. But at the end of 2017 that bequest funding had run out.
"So this year, 2018, was financially a really restricting year. And so even staffing we had to cut down hours just to make ends meet so that we could still put back 100 per cent of what we raised through the Foundation of Hope Gala and donations, back into these programs," Schwartz said.
This resulted in the board starting to have conversations of how they could still have a community impact despite transitioning to not having a physical United Way office in the community.
"We just felt that that was the most sustainable decision going forward of how we could still look at how that impact can advance in 2019, without taking away from our community resources by trying to keep our local doors open. It just didn't make sense for us of taking away those dollars when we know that there's other supports around the province and the United Way's that can help do some of these back-in-office things and also allocate those dollars back into the community."
Schwartz added that 2018 was a challenging fundraising year. The first ever Foundation of Hope Gala raised $100,000, but this year's fourth annual fundraiser resulted in only a $60,000 net profit.
"It makes sense to me the change that's happening. What we can do with our little office and one staff person, it's not sustainable. The community impact has absolutely been impacted, or limited to, what we could do because of that," she said of being the lone paid staff member.
"I see there's more opportunity because now we're partnering and we're working with bigger United Ways. They have the resources. They already have the existing programs that are working in their communities. So I just see opportunity for them to bring some of those into our communities."
On Wednesday, the United Way distributed their final $65,000 in funding allotments in support of the local agencies to receive funding through the Foundation of Hope Gale. She was pleased they were able to fully fulfil seven of the funding requests they received this year, and 75 per cent of the other request.
"We were quite happy about that," she admitted. "It was a harder year financially and we kind of were expecting that with the economy and just seeing the transition over the last couple of years. So the fact that we could fill those grant requests and really end on that high note, and the non-profits even for them to have that 12 month advance notice. Cause this is for 2019 programs so they now have at least 12 months to kind of figure out where they can get those dollars for 2020 programs."
Schwartz said a new partnership with the United Way of Regina has the potential to allow additional programs and services to be provided in the community.
"I see there's more opportunity because now we're partnering and we're working with bigger United Ways. They have the resources. They already have the existing programs that are working in their communities. So I just see opportunity for them to bring some of those into our communities."
"I think as far as United Way in Saskatchewan, it's going to look different as a whole of even just what community impact looks like. I think it'll be more innovative actually. And I'm optimistic and excited about some of the discussions and ideas that have come forward of how the United Way can still impact communities here, and really support Swift Current United Way, and become more than just a transaction organization that brings in dollars and allocates it back out, to actually have an organization that could potentially bring programs or things like that into the community that's going to support smaller rural areas as well as the urban centres."
Conversations are still taking place to exactly what this new model will look like, and it might be a year or two in the making before it emerges.
The closure of Swift Current's United Way will leave just five remaining Saskatchewan United Way's in operation (Regina, Saskatoon, Battlefords, Estevan and Yorkton). This is down from 10 United Way's working in the province in 2000.
Robyn Edwards-Bentz, CEO of United Way Regina, said discussions and collaborations are ongoing in order to make sure that there is a presence of the United Way in more communities across the province.
"So I'm here to support and make sure that we have a presence and continued emphasis on improving lives and building a stronger community across communities in Saskatchewan."
"It's really hard, I think the uncertainty as to what the future will hold. We don't know at this point. The actual entity of the United Way Swift Current will discontinue, but we will continue to work with partners in the community and have a United Way presence and build community here too."
"The conversations will continue. What does it look like going forward? We have to find ways to be innovative. And it doesn't change that we still need to advance our mission, that we are really important in communities across the province. But our presence might look different, and the way we support and serve may have to change. But the need is growing in communities across the country. And so we have to be present. We have to do what we have to do to innovate and find new ways to help people that need help," Edwards-Bentz said.
Among the unknowns heading into 2019 is the status of the annual Foundation of Hope Gala.
"That's something that as a local community I think there's conversations happening and it may continue forward. That's, I think, a conversation that needs to continue and I believe that they're looking at other opportunities and options because I do know its been stable in Swift Current and something that the community doesn't want to lose. It's an opportunity to get together and enjoy each others company. So I'm sure there's work that will have to happen to coordinate it differently, but I believe it will continue," Edwards-Bentz said.
As all funds donated to the United Way are intended to stay in the community where they are donated from, United Way Regina has adapted their processes to ensure that will occur.
Edwards-Bentz said it is too early to announce any new fundraising efforts or local initiatives at this time.
"I think all of that will have to be determined," she said. "The bottom line for any United Way, is the heart is the community and the volunteers. So we will want to engage and establish relationships and we'll really work with the community in the best possible way. And so I think there's lots of conversations that will happen in 2019 just to determine how we will do that."
Admittedly, it will be more of a challenge to be visible in the community without an office or local staff.
"That's the biggest challenge, but with some work, and honestly it will take collaboration and partnership with those that live in Swift Current to make sure that the presence is here and the heart of what we do – volunteering and building community – remains here. Although there might be challenges at the beginning, it has been successful in other communities and it has happened before. And so I do believe that it's about rallying the community around a common purpose, and that's something that we're really good at as an organization, and this should be no different."