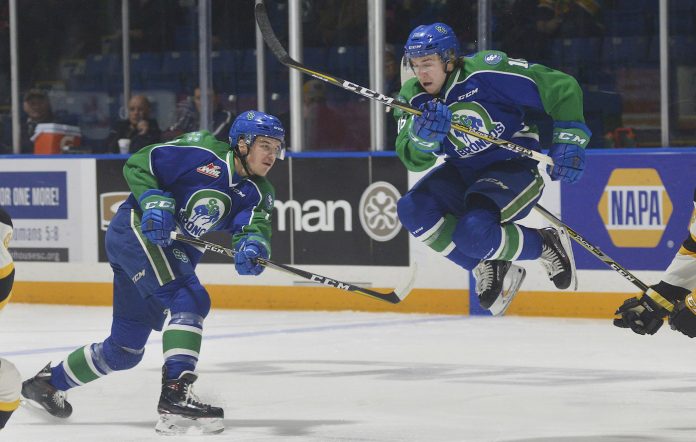 The Swift Current Broncos fell victim to a two minute lapse in the third period as they lost 5-2 to the visiting Brandon Wheat Kings on Saturday.
The game was tied 2-2 until the Wheat Kings scored three goals over 1:38 to hand the Broncos their third straight loss. Linden McCorrister netted the game winner on the rush when he tapped home a Luka Burzan centering feed for his second goal of the game. Ridley Grieg scored 46 seconds later when netminder Joel Hofer misplayed the puck behind his net and Grieg wrapped the puck into the open net. Hofer, clearly still rattled, let in a soft shot from McCorrister 52 seconds later to clinch his hat trick.
"I thought our guys battled pretty hard," said Head Coach Dean Brockman. "We were right there. Obviously those guys have saved our butts before and I'm sure Joel would have wanted a few back."
McCorrister had opened the scoring 3:10 into regulation with a power play goal. Rookie Joona Kiviniemi wired home a shot at the 15:36 mark to launch the Teddy Bear Toss with his fifth goal of the season.
Stelio Mattheos restored the Brandon lead with 5:57 left in the second period with a power play goal, his 22nd of the season. But Andrew Fyten quickly replied with a bad angle shot that somehow went in for his sixth goal of the season.
"I think there's lessons every time you play," said Brockman. "I think at the end of the day we didn't win and we've got to find the lessons and make sure that we've learnt them and put them behind us."
The Wheat Kings finished three-for-seven on the power play after scoring their first three goals on the man-advantage. The Broncos failed to capitalize on their two power play opportunities.
Hofer made 30 saves to fall to 2-16-1-1. Jiri Patera improved to 10-6-2-2 with 31 saves.
The Broncos fell to 4-21-1-1, while Brandon improved to 13–7-3-3.
The Broncos will host the Western Hockey League leading Prince Albert Raiders on Tuesday.