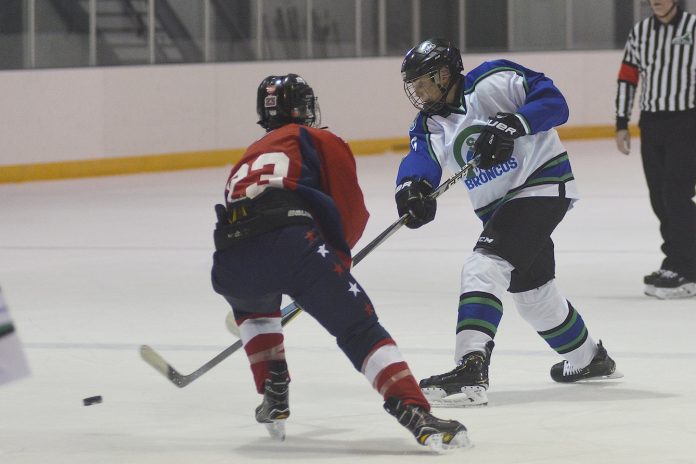 The Swift Current Abbey Resources Broncos continued to run roughshod over the Saskatchewan Midget AA Hockey League with two wins over the visiting Regina Capitals to improve to 12-0.
Saturday, the Broncos moved to 11-0 with a 5-2 win. Ryland Hornung registered three assists, Levi Lamotte scored twice, and Quinn Patenaude added a pair of helpers.
Kaden Floberg, Cash Arntsen, and Chase Sawchuk also scored.
Hunter Johnson, Ryan McCleary, John Priela, and Riley Skarbon all added assists. Brad Nyen picked up the win as the Broncos outshot the Capitals 40-17. Nyen improved to 6-0 with a 1.83 goals against average.
Sunday, the floodgates burst open in a 10-2 win over the Capitals when 13 of 15 skaters notched at least one point.
Beau Larson led the way with three goals and two assists, Brock Oberle added two goals and two assists, and Nathan McInnis chipped in three assists.
McCleary, Sawchuk, Skarbon, and Hornung all added a goal and an assist. John Priela, Cash Arntsen, and Levi Brewer each picked up a pair of helpers. Kaden Floberg also scored, while Johnson added an assist. Justin Dueck picked up the win to improve to 6-0 with a 1.67 goals against average.
The Broncos will return to league action on Nov. 15 when they visit the Notre Dame Hounds (3-4-1-1).