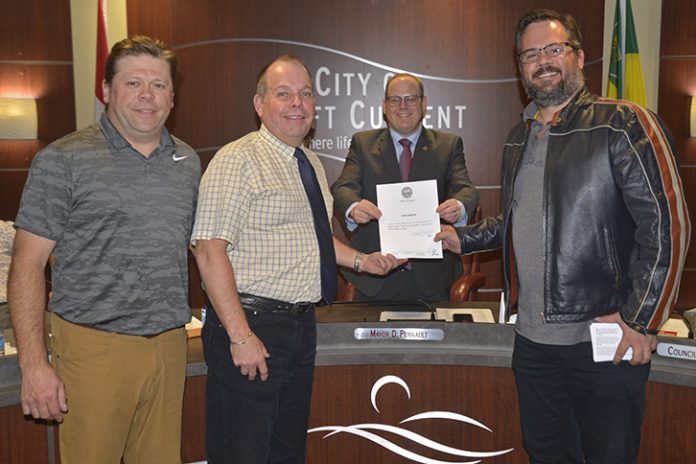 The Dr. Noble Irwin Regional Healthcare Foundation is flying their colours this week in recognition of their efforts to improve healthcare across the entire Southwest.
Swift Current City Council proclaimed the week of October 28 to November 3 proclaimed as We Care for Healthcare Week to salute the impact of the Healthcare Foundation's efforts over the years.
"The Dr. Noble Irwin Regional Healthcare Foundation has been working to support healthcare in Swift Current and the Southwest for the past 19 years, and we look forward to being able to fly our colours for the week leading into our largest and most important fundraiser of the year," explained Dr. Noble Irwin Regional Healthcare Foundation Executive Director Clay Thompson.
Their current fund-raising campaign is aiming to gather the funds to purchase a new mobile digital x-ray system for the Cypress Regional Hospital in Swift Current.
"This new technology will allow our care providers the opportunity to obtain x-rays at bedside, and literally within seconds they can access the healthcare situation and recommend treatment."
"Again, this new technology can and will make a positive difference to our healthcare."
Thompson notes that over the 19 year history of the Foundation, they have raised over $16 million for equipment in support of health care across the Southwest. A total of $11.5 million has been directed to healthcare related equipment and furniture at the Cypress Regional Hospital and long term care facility in Swift Current. $4 million has been used to support healthcare facilities in the various communities they serve across the Southwest. The remaining $500,000 has been provided to approximately 400 care providers to assist them with their educational needs. These individuals have been able to improve or expand their skills through upgrading or courses, or to become care providers.
"While our mandate reads that we will improve the quality and availability of healthcare in Southwest Saskatchewan, and as mentioned we have supported the rural facilities to the tune of $4 million over 19 years, all the funds gathered through the Pharmasave Radiothon for Healthcare – apart from 2015 when the funds went to The Meadows – all of the funds gathered have been directed to equipment that is ultimately installed at Cypress Regional Hospital. And there is one very simple reason why. We believe having a strong Regional Hospital is in fact providing quality and availability of healthcare to the Southwest. Having a strong, well-equipped Regional Hospital means that all the residents living in Southwest Saskatchewan can receive quality care close to home. Maybe not right at home, but certainly closer to home than having to travel to one of the major cities to receive the care and attention they require," he said.
They boast an impressive list of equipment purchases over the years, including a Digital Mammography Unit, an updated Telemetry System at the hospital, and the installation of a CT Scanner. They have also replaced and renewed critical care equipment for the Emergency Department and ICU wards, replaced the operating room tables at the regional hospital, and this past year purchased three new birthing beds and two new Panda warmers. One of their campaigns raised funds for the addition of a Holmium Laser which has attracted Urologist Dr. Francisco Garcia to practice in the community.
The Foundation has four full time employees on the payroll, but the registered charity is guided by volunteer board of directors.
"Fundraising can be challenging work. There's more than simply hanging a sign and waiting for the donations to start coming in. It is a process that involves matching a good cause with people willing to support that good cause."
"For us that means bringing healthcare related needs to potential donors. Educating people and businesses on how their support can and will make positive changes to the quality and availability of healthcare in Southwest Saskatchewan. And then we try to give them as many opportunities as we can to support those improvements."
The 10th annual Pharmasave Radiothon for Healthcare will be held on November 1 and 2 and will be broadcast on three local stations. Pharmasave has served as the title sponsor of the Radiothon for the past six years, and they will again be the title sponsor for this year's event.