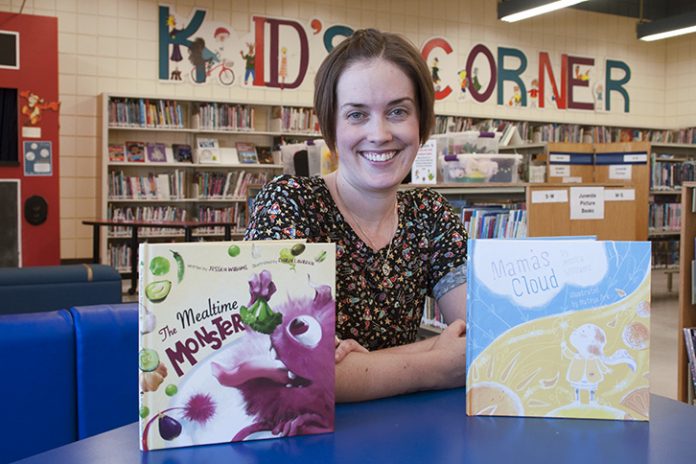 Swift Current author Jessica Williams has had a busy launch to her career as an author of children's books.
She released Mama's Cloud back in July, and earlier this month celebrated the release of Mealtime Monster. She appeared at a reading at the Swift Current Library on Saturday, the first time she has presented the book to a local audience.
Mama's Cloud boasts a unique focus that doesn't always appear in children's books.
"Mama's Cloud its a story for young children, three to seven year olds or so, and it, I like to say it gently broaches the topic of mental illness in families," Williams said.
"It's about a small child and their mother, and they have this wonderful, magical relationship. And then one day the mother has this dark cloud that comes in a settles over her, which is a metaphor for mental illness, depression, anxiety, or even chronic illness, chronic disease…which takes away the mother's magic."
"So the child sees this happening to their mother and wants to help, because children are inherently compassionate."
"This small child wants to help their mother, so starts coming up with all of these imaginative, fantastical ways to take care of their mother."
The child in the book realizes they are not the thing they are imagining in the various scenarios, and they can't do the thing that they're hoping.
"The end of it I wanted to make a hopeful ending, but not all tied up with a pretty little bow, because mental illness is not all tied up with a pretty little bow. Even when things are improving its not solved."
"In the end the child realizes that just by providing love to their mother, than can help."
"I wanted to make sure that it was a fun and non-confrontational story for kids so that they would be interested in reading it, not necessarily feel like they're being lectured to or taught something…but just a fun story that gives ideas about maybe what could be happening in their family. And I wanted to make sure it was expressed that it's not the child's job to fix whatever is happening, because it's not a kids job. It's way too big of a job and it's not their responsibility."
"I wanted to give kids something that maybe they can do, and if that's just giving a hug, or making sure that their parent or loved one knows that they love them, that can be helpful."
Her newest book is a fun children's book, written in rhyme. It is the story of a little girl who is a picky eater who hates eating her vegetables.
"One day she is fed up and she wishes as hard as she can for something to look after this annoying problem for her, and she magically creates a fluffy purple monster who happens to love eating vegetables."
And while the monster eats all the vegetables every night, and she gets to just eat desserts.
"That obviously doesn't go well in the long run," she chuckles.
"So it was written to be a little bit more fun. Its received a lot of good feedback from kids as well. They've enjoyed it."
Williams was born and raised in BC, and moved here with her husband here to start a family. She was raised a reader, and grew up surrounded by books.
"I have always enjoyed writing, but haven't ever really looked at doing it as a means of income, as a job."
"I've always liked kids books, they've always been kind of a favourite for me. And I started thinking, I feel like I could do this. And I started just coming up with ideas and writing from there."
Williams expects when will be releasing her next book in six months, and she is currently working with an illustrator on the last few pages. She admits to having a computer full of stories in various stages.
"It's fun. It's one of the those things where I start writing and it doesn't feel like work. It's just fun."