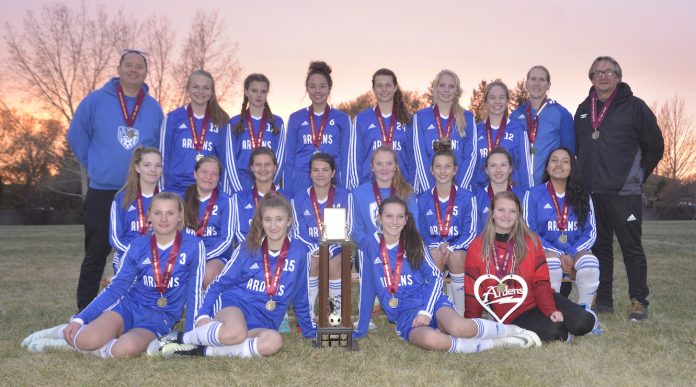 The Swift Current Comp. Ardens defeated the Weyburn Eagles 5-2 to clinch a 10th consecutive Moose Jaw High School Soccer League championship on Tuesday.
The second-seeded Ardens scored four second-half goals to upset the top-seeded Eagles after a sluggish opening 45 minutes.
Bryn Haubrich and Jannae Carlson each scored twice, while MJ Anderson added a goal and two assists. Juliana Whalen earned the win in goal.
Weyburn took the lead with a shot from distance in the third minute. The Ardens tied the game in the 16th minute when Haubrich slammed home a free kick from just outside the penalty area.
"I feel like we played really bad the first couple minutes and then we picked it up. The second half we really picked it up and played really good in the second half," said Anderson, a grade 11 co-captain.
The Ardens took control of the game early in the second half when Carlson scored in the 48th minute on a breakaway and Haubrich danced around a defender in the box and converted to the far corner in the 51st minute. Anderson tallied in the 60th minute to make it 4-1. Weyburn replied in the 70th minute but Carlson sealed the game in the 75th minute with another breakaway goal.
"We just started getting first to the ball and just were running as hard as we could pretty much," said Anderson of the improved second-half effort.
The Ardens will host Weyburn and Yorkton Regional in the 3A South Regional this weekend.
"We want to place first in Regionals and then hopefully get a medal at Provincials," said Anderson.
The Colts soccer team lost 4-1 to the Moose Jaw Central Cyclones in the championship match to end their two-year reign since joining the league. Matthew Epp scored the only goal in the loss.
The Colts will be in Regina for Regionals this weekend where they will need just one win to book a return trip to Provincials.