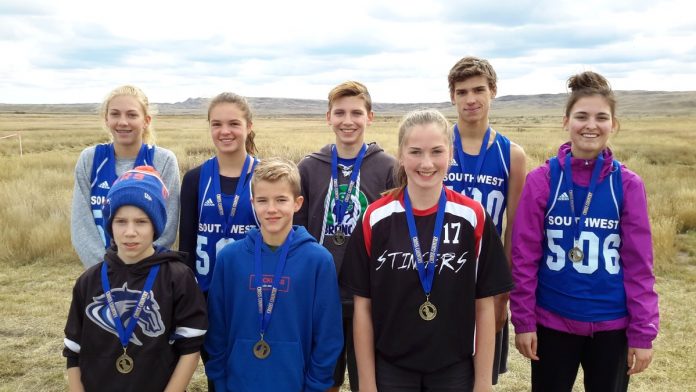 The first major championship for SWAC was on Saturday, Sept. 29. Our Cross Country championship was held at beautiful Grasslands National Park.
Thank you to Anne Beauchamp from Val Marie for being the commissioner and a huge thanks to the staff of the Grasslands National Park for helping us run our event. Over 115 runners from schools across Chinook participated in the meet.
Top three results:
PeeWee Girls: Addison Allen (Ecole Centennial) 1st, Dior Stringer (Ecole Centennial) 2nd, Payton Fisher (Consul) 3rd.
PeeWee Boys: Shane Cornelson (Ecole Centennial) 1st, Derric Dulatre (All Saints) 2nd, Carter Tuplin (Ecole Centennial) 3rd.
Bantam Girls: Brogan Carlson (Stewart Valley) 1st, Sarah Beierbach (Consul) 2nd, Gretta Lopeter (Irwin) 3rd.
Bantam Boys: Kaleb McBurney (All Saints) 1st, Evan Fisher (Consul) 2nd, Jonathon Rutowski (Consul) 3rd.
Midget Girls: Hillary Lacelle (SCCHS) 1st, Kirsten Hanson (SCCHS) 2nd, Eve Boss (Wymark) 3rd.
Midget Boys: Elijah Nichola (Vanguard) 1st, Markus Kuzma (2nd).
Junior Girls: Kea Frase (SCCHS) 1st, Alexandria Boss (2nd).
Junior Boys: Rhys ONeill (Ponteix) 1st, Zander Rommelaere (SCCHS) 2nd, Emanuel Grimm (Hodgeville) 3rd.
Senior Girls: Jenna St Jaques (SCCHS) 1st, Danika Messer (SCCHS) 2nd, Amanda Thoreson (SCCHS) 3rd.
Senior Boys: Rueben Kuzma (SCCHS) 1st, Austin Coward (SCCHS) 2nd, Dylan Pierce (SCCHS) 3rd.
16 of our midget, junior and senior runners will advance to the SHSAA Provincial Championship in Delisle on Saturday, October 13.
SWAC teams involved in football are nearing the end of the regular league play. Just one or two games left before the playoffs.
Friday, Sept 28. was a busy day for 9 Man Football. The Shaunavon Shadows hosted Notre Dame and lost (45-29).
Indian Head was in Maple Creek for our other game. The hometown Redmen lost 55-24.   Gull Lake hosted Outlook LCBI on Saturday, Sept 29. It was a very close game, but Gull Lake had to take the loss (26-24).
The SCCHS Colts had a football game against Estevan on Saturday, Sept 29. They came away with a big 51-15 win. The Colts move to 4-1 in league play.
You have your choice of games on Thursday, Oct. 4. Gull Lake will host Hanley in 6 man action. Kickoff is at 4 p.m. It will be Shaunavon is hosting Maple Creek "under the lights". Game time is 7:30. The last regular season game for the SCCHS Colts is on Thursday, Oct. 4, at home, against Yorkton. Game time is 4:00.
The Ardens and Colts soccer teams had no scheduled league games this past week. Since Herbert soccer teams are not in a 7 vs 7 league, exhibition games were organized against SCCHS teams. What a great opportunity for the SCCHS teams to work on conditioning in the wide open 7 vs 7 game and the Herbert teams had an opportunity to play against a couple of the toughest teams in the province. Herbert boys lost 8-1 to the Colts and the Arden's defeated the Herbert girl's' team 8-0.
Herbert girls also played an exhibition game against LCBI. They fought their way to a 1-1 tie. Herbert boy's soccer team had two more exhibition games on the weekend. They played to a 1-1 draw against Maymont and then played LCBI and lost (4-1).
The Soccer Colts host Moose Jaw Vanier on Wednesday, Oct. 3 and the Arden's host Moose Jaw Vanier girls on Tuesday, Oct. 2. Note, the Ardens' game is a change from the original schedule. These are the last regular season league games for the SCCHS teams. Playoffs for the Moose Jaw soccer league will be starting the week of October 9.
The Saskatchewan High School Athletic Association has given the SouthWest two Regional soccer tournaments (first step in provincial play downs). Swift Current Ardens are hosting an 11 aside girls regional and Herbert boys are hosting a 7 vs 7 regional. Both tournaments take place October 20.
The SWAC senior girls' volleyball league continues. Results of week 2 senior girl's league (best of three sets):
Gull Lake over Ponteix – 2-0 and 2-0 (25-11, 25-14 and 25-20, 25-19)
Hazlet over Eastend – 2-0 (25-12, 25-9)
Vanguard over Eastend – 2-0 (25-14, 27-25)
Hazlet over Vanguard – 2-1 (19-25, 25-19, 15-12).
League host sites for week three matches, on Tuesday, Oct 2, are Gull Lake (Hazlet, Eastend attending) and Ponteix (Vanguard attending).
Special shout out to all our officials in football, soccer and volleyball. None of our fall sports could happen without the dedication of our officials. It is also great to see all the support from our SWAC schools and communities at the various athletic events. Our SWAC kids love playing for their fans! If you haven't taken in a SWAC sporting activity lately, I encourage you to check it out!
The Chinook School Division Sports Report is submitted by Valerie Gordon, Athletic Coordinator