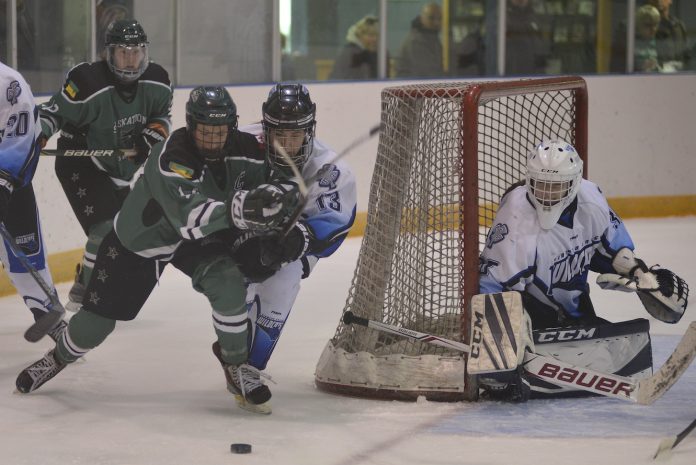 The Swift Current Diamond Energy Wildcats had the opportunity to test themselves against the defending league champion Saskatoon Stars in their Saskatchewan Female Midget AAA Hockey League opening weekend.
The Wildcats appear to have closed the gap with the Stars, but were unable to secure any points in a pair of close losses on home ice.
Saturday, the Wildcats scored twice on the power play but lost 4-2.
Taylor Lind scored to open the scoring the first period and Maddy McCleary also scored in the third period. Lind and Ryleigh White added assists in the loss.
Grace Shirley, Abby DeCorby, Anna Leschyshyn, and Jayda Sachs all scored for the Stars.
Arden Kliewer earned the win with 23 saves on 25 shots. Amaya Giraudier took the loss with 25 saves for the Wildcats.
Sunday, the Wildcats scored another three goals on the power play but let a couple of leads slip through their fingers in a 5-4 loss to the Stars.
The Wildcats got out to the ideal start when they got goals 13 seconds apart from Sara Kendall and Crystal Wale in the opening minutes.
The Stars responded with three goals over 2:08 to lead 3-2 after one period.
The Wildcats opened the second period with power play goals from Lind and Carissa Hogan to regain the lead, but Saskatoon scored twice before the end of the period to regain the lead before a scoreless third period.
The Wildcats finished three-for-seven on the man-advantage and were not whistled for a single infraction against a very physical Stars team.
Kliewer picked up a second win with 16 saves on 20 shots. Harper Davey made the start for the Wildcats and made seven saves on 10 shots. Giraudier worked the final 47:48 and made 14 saves on 16 shots.
Kendall, Lind, Kate Wagner, Kenedee Klevgaard, Layne Hryhoriw, and Baylee Kirwan all picked up assists for the Wildcats.
The Wildcats are on the road this weekend for the Pembina Valley Hawks Thanksgiving Tournament.