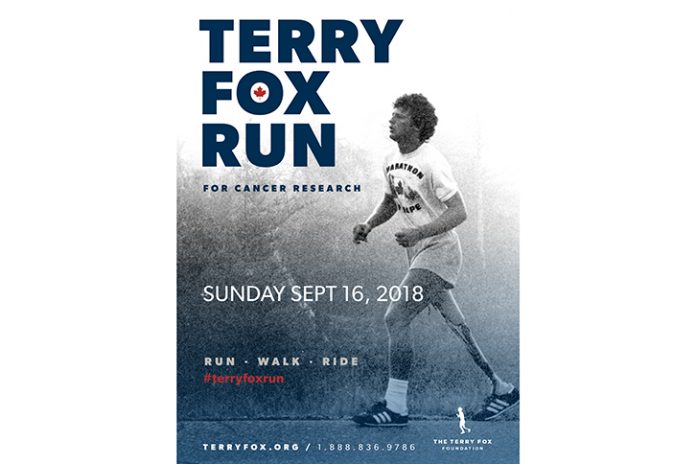 Swift Current residents are invited to participate in the 38th annual Terry Fox Run on Sunday, September 16.
The annual fundraiser in support of cancer research through the Terry Fox Foundation will be held come rain or shine.
David Camarador, who is the SCCHS SLC Chairperson, is one of the organizers of this year's event, which begins at 2 p.m. at Riverside Park.
"It's a good event to come together as a community," Camarador said during an interview to promote the Run. "I think the thing that differentiates the Terry Fox Run from other events is that its gone on for so long already. And it's great that we have that community support still to keep going."
Participants are invited to walk the entire 10 kilometre distance of the non-competitive event, starting at Riverside Park and following the Chinook Parkway to the five kilometre mark which is approximately at George Street near the Elmwood Golf and Country Club.
Each kilometre along the route is marked, so people can walk the entire distance or shorter distances.
"It's a very family friendly event. You can bring strollers. You can bring pets. You can walk. You can jog," he explained.
Registration begins at 1 p.m., where people can simply pledge a donation and sign up to participate. Donations can also be pledged online through www.terryfox.org
Camarador is one of group of people who stepped up to be the event day organizers of the Terry Fox Run. He said the event holds too important a place in the community to not be held.
He recalled that during a school assembly before the SCCHS Terry Fox School Walk assembly, every student raised their hands when asked if they knew someone who has been effected by cancer.
"It just goes to show how much we need a run like this to help raise funds, and we're really happy that we can hold it this year again too."
"We didn't know if we'd be able to hold it, but the community came together in support of it."
"It's a wide variety of people who want to make sure it happens," he added. "To see that the dream that he had continues to live on I think is very powerful."
He also encouraged people to stop by and show their support and simply make a donation if they do not have the time to participate.
"We're hoping to just have people show up and continue to make this a good event like every year."