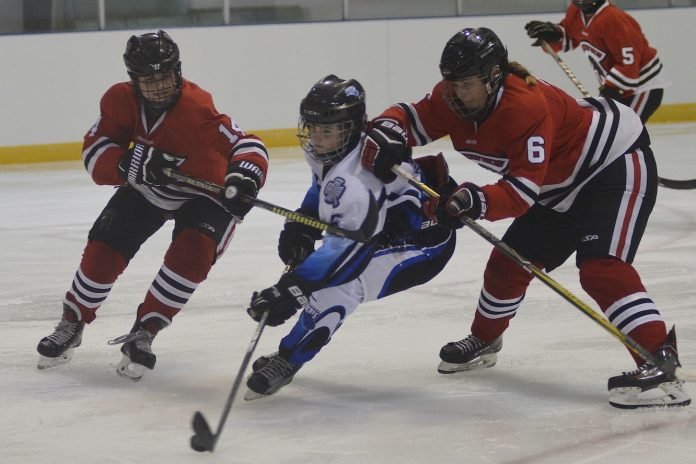 The Swift Current Diamond Energy Female Midget AAA Wildcats showcased a prolific attack during three wins at their annual preseason tournament. The Wildcats won all three games while outscoring their opponents 28-5. The Wildcats opened the tournament with a 9-1 win over the Pembina Valley Hawks on Friday.
Sara Kendall led the way with two goals and four assists, while Ashlee Wolfe added a goal and five assists and Crystal Wale registered a goal and three assists.
Layne Hryhoriw notched a hat trick, while Brooklyn Rublee and Brynne Doerksen also scored.
Taylor Lind picked up two assists, while Kenedee Klevgaard, Ryleigh White, and Maddy McCleary all added single helpers.
The Wildcats increased their offensive output on Saturday in a 14-1 win over the Pilot Mound Buffaloes. Lind paced the attack with two goals and three assists, followed by two goals and two assists from Wolfe.
Carissa Hogan added a goal and two assists and Hryhoriw registered three assists. Klevgaard and Trista Labarowski both scored twice, Wale, Brooklyn Rublee, and Kendall added a goal and an assist, and Kamryn Johnson picked up a pair of assists.
McCleary also scored, while Kate Wagner and Madison Garrett added assists.
Sunday, the Wildcats concluded the weekend with a 5-3 win over U16 Team Saskatchewan.
Lind led the Wildcats again with two goals and two assists. Hogan, Wale, and Rublee also scored. Wagner picked up two assists, while White added a single.
Harper Davey picked up the win in goal.
The Wildcats will open the Saskatchewan Female Midget AAA Hockey League regular season on Sept. 29-30 when they host the defending league champion Saskatoon Stars.