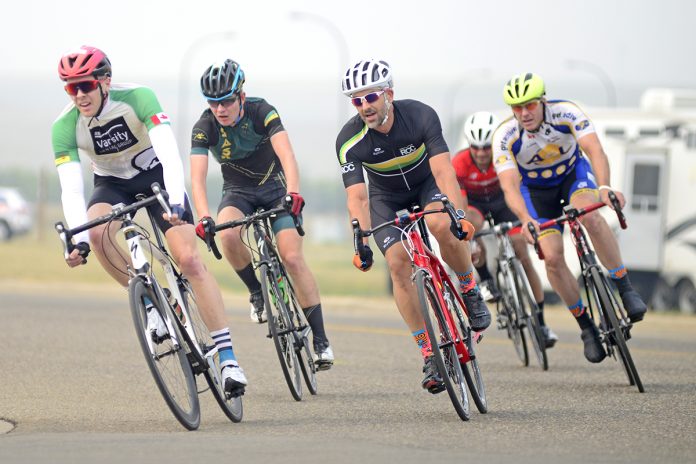 The conclusion of a trio of test events in preparation for the 2019 Western Canada Summer Games has provided Games organizers with some valuable information on how to better prepare for the 16 sport competition in August of next year.
This past weekend a two-day cycling competition was hosted by the Swift Current Cycle Club, including a Time Trial road race in Wymark, a criterium race in Swift Current, plus a Road Race from Hazlet along Highway #332. It was the third pre-competition test event following an Open Water Swim on July 15 and Triathlon on August 12.
"What we really wanted to do was test out the courses and the venues for those three outdoor sports which are newer to this region," explained Denise Barbier, Games Manager. "And because they were all outdoor sports, looking at how did the weather impact us, and the logistics around the set up, and the transportation, and some of those pieces."
The events also provided specific details about the event officials that would be needed and the number of volunteers to make the events successful.
"They were really important to gain some understanding, especially in the set up of the competition courses."
Barbier noted that their opening test event, an open water swim, was the first time an open water event had been held in Saskatchewan in over two decades. An official was brought in from Ontario to share her experience in organizing this type of competition.
"That was immensely helpful because she had a wealth of knowledge. She spent time with us that weekend and walked us through all the procedures and the steps and offered a lot of advise to us."
The open water swim event was also helpful for athletes to experience the venues. The swim attracted athletes from Manitoba, Alberta and from across Saskatchewan, all who wanted to test out the venue in advance of their chance to quality to attend the Games in August 2019.
They gained similar knowledge and feedback from the triathlon and cycling events as well.
"It was really important. But we also learned things that can be applied to all of the sports. We were at outdoor venues, so there's lessons to learn about that," she explained.
"There's things about running events outdoors that can translate well. So we will be sharing learnings from these three test events with all of our sport chairs, because there are lessons that are applicable to all of them."
The organization of just three test events was an eye opener for the large scale effort ahead to run a 16 sport event over 10 consecutive days. The three summer test events attracted 124 competitors, and nearly 100 volunteers contributed to holding these events.
During debriefing sessions after the test events, event chairs made the comment that the stand alone events took considerable effort.
"People were saying, wow, what did it take for us to do this one day or this two day event. And that's the only event that we're working on and we're all focused on that," Barbier said. "I have a small team of staff, and we had a smaller group of volunteers for each of these events. But it was a lot of work. And we put a lot of time and effort into it. And we were all tired at the end of it," she added. "So then to put that into perspective of next year, we're not just running three events in five weeks, with weeks in between. We're running 16 events, plus opening and closing ceremonies, plus a cultural festival – over 10 days."
"I think the 'ahah moment' might be people thinking we're just a small piece, and look how much it takes for this small piece in this much bigger puzzle that's going to happen next year."
"I think that's a good thing for people to see too… It was great we learned so much, but there's going to be all this other stuff going on too. And so we definitely will need more people next year."
With the Games just under one year away, the Games planning now shifts towards more intensive planning from the various teams responsible for the diverse areas needed to host the approximately 2,300 athletes, coaches, and officials who will be involved in next year's competition.
"There's lots of details to work out now. A big push for us is to get our venue teams up and functioning this fall. So we're still looking for some people to join teams…that will work with all the volunteers to run the venues for each of the different sports come Games time."
Barbier said details on these various positions and needs can be found on their website 2019wcsg.ca under the volunteer tab.
There will be a pair of final test events in 2019 during the months leading up to the Games, including a test of the new mountain bike course, plus Swift Current will be hosting the Western Canadian Tri Province Championship track meet.
Games organizers will be making a major call for volunteers in early 2019, and a series of promotional launches are planned to help build the profile of the Games. An education program will soon be unveiled across Saskatchewan, providing resources to teachers from Kindergarten to Grade 12 to teach students about the Western Canada Summer Games. They are looking at launching a Youth Athlete Ambassador Program in order to engage youth and sports teams in the region. There will also be a medal design contest this fall to find the design which will appear on the gold, silver and bronze medals which will be presented to winning athletes.
Efforts will also intensify towards securing sponsorship for the Games.
"We've been meeting with lots of companies and lots of businesses locally, regionally and provincially as well. We've had a few sponsors come on board, but we need more too. We want to put on a quality Games, and we're inviting thousands of people to come to our region next year," Barbier said.
"And we want to put on an event that we're going to be proud of, and we'll look back on and feel I was a part of that and we made that happen. We want people leaving having a really memorable experience in our home area, and wanting to come back."