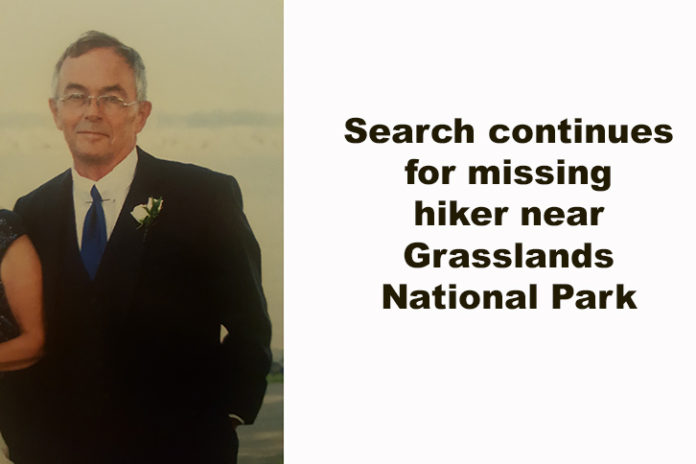 A search is still ongoing for a missing hiker last seen in the Grasslands National Park on August 1.
Don Stoliker, 63, has not been seen since Wednesday, and Parks Canada is continuing their search efforts along with partners including the RCMP, Civil Air Search and Rescue Association (CASARA), and local volunteers. They are searching by foot, vehicle, air, and on horseback.
Stoliker, who expressed his intent to hike the 80 kilometre long loop of Ecotour Road, was last seen in the vicinity of the south access route near the west block of Grasslands National Park on August 1, at 3:30 p.m.
The search began at his last known location on August 2 (near the south access route in the west block of the park), and has expanded over the course of the last two days.
Stoliker, from Newburgh, Ontario, is described as a 63-year-old Caucasian male, with a slight build, glasses, short dark hair flecked with grey, deformed fourth finger on the right hand, and walks with a slight limp. He was last seen wearing a black t-shirt, faded blue jeans, and is carrying a black coloured backpack with a sleeping roll attached as depicted in the attached image of Stoliker, taken by a visitor on the day he was last seen.
Parks Canada would like to remind visitors that when visiting the back-country in Grasslands National Park, to please let friends and family members know where and when you are going and to check in with Parks Staff when visiting the park.
If you have seen this individual, please contact Grasslands National Park at 306-298-2257 or the RCMP Ponteix Detachment at 306-625-6400.
Park officials and RCMP are concerned for Stoliker's well-being, as he has health issues.