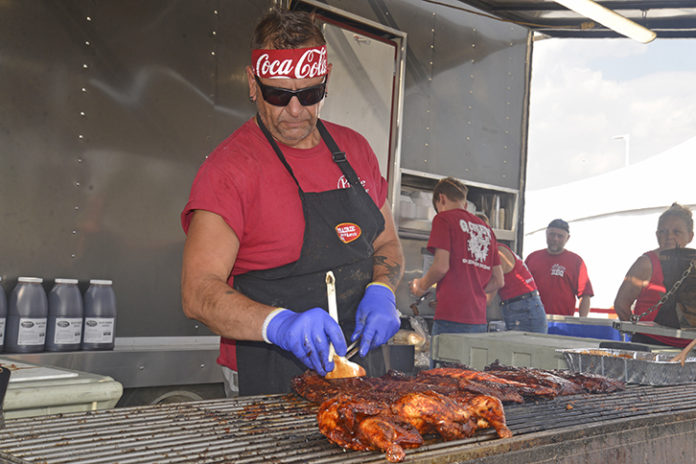 The grills are fired up and ready to serve a selection of mouth-watering BBQ delectables at the first ever Ribfest in Swift Current this weekend.
The August 3 to August 5 event is now underway at the Living Sky Casino, with proceeds donated to the Dr. Noble Irwin Regional Healthcare Foundation.
Saskatchewan's own Prairie Smoke & Spice along with Silver Bullet Bar B Q are serving a series of authentic Texas Style and Southern-style dishes.
Matraca Ashcroft from Prairie Smoke & Spice said they are looking forward to their debut weekend in Swift Current.
"We love Ribfests. We love rolling into town. It's a lot of fun. The Casino here has been amazing – great hosts so far. There's a lot of hype around the City. So we're excited to be here," she said shortly before they started serving food this afternoon.
Visitors to Ribfest will not only be able to sample a variety of award winning creations, but they can expect a high energy atmosphere.
"You can expect it to be very loud. You can expect a lot of workers yelling, trying to get you pumped up, because we're excited about the food we're serving. And we want the people that are coming by to be excited about the food that we're serving. So there's a lot of interaction between workers and guests. So we try to keep it upbeat."
They are serving pork ribs, beef brisket, pork shoulder, BBQ chicken, while their side orders are cole slaw, beans and Maple Bacon Corn Bread.
"The real difference between the teams is our flavour profiles. So we've worked a long time on our spice and our sauce. And with our sauce you can expect a very sweet, vinegary, southern style sauce – but with a little bit of a kick. I think that you'll find Prairie Smoke has a little bit of spice to it."
"Our recipes are tried and true now. I feel like we stick to what we know."
Ashcroft said on top of a long and distinguished list of BBQ awards, this year's highlight was winning Best Carnivore at the Calgary Stampede. In this category they were competing against other ribbers and other vendors, so their meat being the best at the Stampede was a big accomplishment.
"We're all a big family, all the ribbers, but it definitely adds a little bit of bragging rights when you get to bring back that trophy to the booth."
Also serving during the weekend is Silver Bullet Bar B Q, who have been in operation for over 15 years. They have served their Texas Style BBQ coast to coast, and in Swift Current they are offering BBQ ribs, BBQ chicken, pulled pork, and their kid favourite mac and cheese.
The Living Sky Casino's Ribfest also has a People's Choice category, and visitors are invited to vote for their favourite ribs at http://LivingSkyCasino.ca/ribfestvote/.
Rifest runs today from 4 p.m. to 9 p.m., Saturday from noon to 9 p.m., before wrapping up on Sunday from noon to 8 p.m.
There is also a Kid Zone with a bouncy castle and other inflatables.
Adults can also visit the beverage gardens where they can enjoy seven live acts during the weekend.
The live bands kicked off with Bakersfield (4:30 p.m. to 6:30 p.m.), followed by The Steve Gibson Band (7 p.m. to 9 p.m.).
Saturday's line-up includes Megan Nash (2 p.m. to 4 p.m.), Bears in Hazenmore (4:30 p.m. to 6:30 p.m.) and League of Wolves (7 p.m. to 9 p.m.). The entertainment on Sunday is highlighted by The Rockin' 58s (1 p.m. to 3 p.m.) and Oral Fuentes Reggae Latin Band (4 p.m. to 6 p.m.).
RIBFEST hours are:
Friday, August 3 – 4 p.m. to 9 p.m.
Saturday, August 4 – Noon to 9 p.m.
Sunday, August 5 – Noon to 8 p.m.