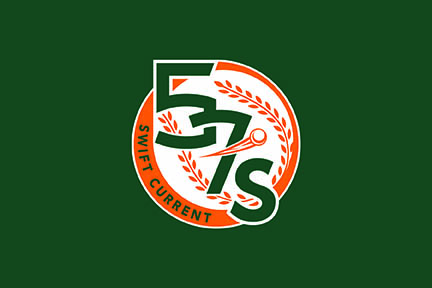 The Swift Current 57's held the visiting Yorkton Cardinals to four hits in an 11-5 win at Mitchell Field on Friday.
The 57's have now scored 27 runs over their past three games as they prepare to defend their two straight Western Major Baseball League championships in the post-season next week.
Yorkton took a commanding lead in the second inning when they took advantage of an error to score four unearned runs during a five-run inning.
The 57's replied in the third inning when they also took advantage of some sloppy play to post four runs with only a single hit to make it a one-run game. They added five runs in the fourth inning to take a 9-5 lead. The 57's added two runs in the eighth inning to close the scoring.
Brock Gilliam got the win after allowing four hits, three walks, and five runs, only one that was earned, while striking out six over six innings.
Tommy Steier added two perfect innings in relief and Keil Krumwiede got the final three outs.
The 57's improved to 27-19 with their third straight win, while Yorkton dropped to 13-32.
Second baseman Ruben Rodriques led the offense with three hits, three runs batted in, a stolen base, and one run scored to improve his average to .429.
Jerad Dokey had two hits and scored twice, while Anthony Stewart turned the line-up over with two walks, one stolen base, and three runs scored.
The 57's will conclude the regular season with home games against the Cardinals on Saturday and Sunday.