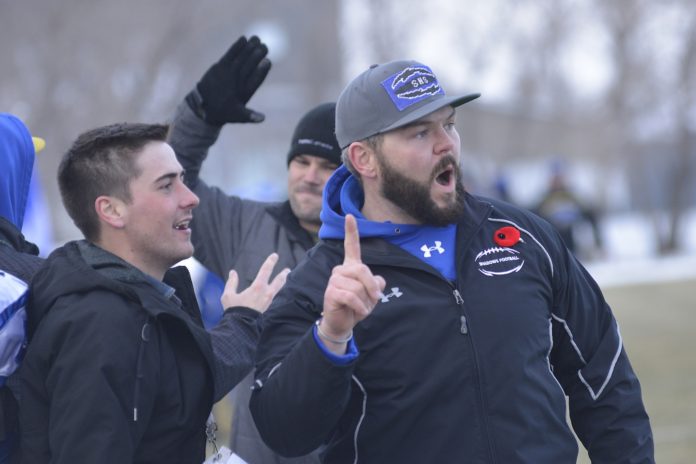 With nothing left to prove in his hometown, Garret Glasrud is leaving his position of head coach with the Shaunavon Shadows football team to join an NCAA Division II football program.
Glasrud, 31, will join the Western State Colorado University Mountaineers as their linebackers coach for the upcoming season.
"It just was really random here. It just kind of fell into place within the last week," explained Glasrud. "I have been at Shaunavon for a few years now and I kind of hit a point where I was either gonna stay and be the head coach of the next 50 years or survive as long as I could, but when this opportunity come up I kind of knew that it might not ever happen again. So it was something to try and chase down. It was just going to be an opportunity that I would regret if I didn't go try it."
Glasrud played for the Shadows in high school and then suited up for Montana State Northern when he played on the defensive line for the Lights at the NAIA level.
Glasrud began coaching the Shadows defense in 2009 and then took over as head coach in 2012. He led the Shadows to two SHSAA 2A Nine-Man Provincial Championships over the past three seasons.
His final act with his hometown team was to defeat the visiting Indian Head Bronc 24-7 in the provincial championship game on November 11, 2017. He also led the Shadows to a title in 2015 to end a drought that had stretched back to 1982.
"I don't know what else we could do in Shaunavon to make it more exciting than it already is," admitted Glasrud. "We brought in the night games in 2014 and we've had those growing and now the communities around us are starting to do them, so we grew football in the Southwest that way. We've had the two provincial championships the past few years. We've had a winning record of I think 35-14 or something like that the last six years. For myself there's not much more we can do, so I felt it was a good time to let somebody else take it over and maybe somebody else will have new ideas and new ways to grow the sport in town."
Read the complete story in the upcoming edition of the Southwest Booster