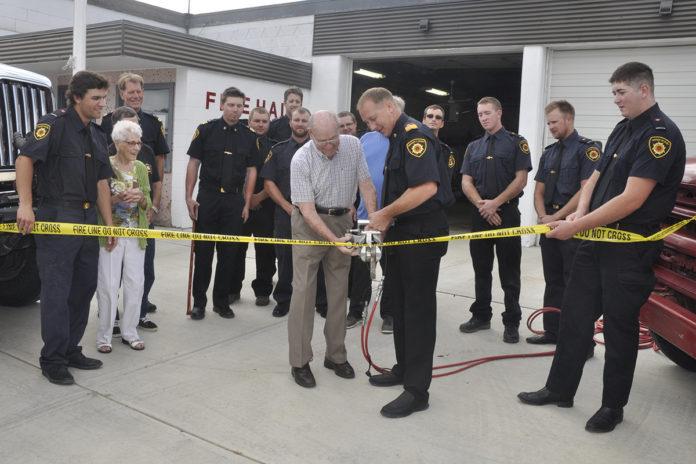 Long-serving Shaunavon Fire Department member Gordon Speirs was honoured to participate in a renaming of the Shaunavon Fire Hall to the Gordon Speirs Fire Hall on July 21.
As one of the highlight events of Boomtown Days 2018, an official naming ceremony was held on Saturday to officially rename the facility the Gordon Speirs Fire Hall.
Speirs joined the Shaunavon Volunteer Fire Department in 1945, and went on to serve as Fire Chief from 1949 to 1991.
"When you volunteer you don't know really how long it'll be or how exciting it'll be," Speirs said shortly after receiving the recognition for his 46 years of volunteer fire fighting duties.
"A very, very thrilling day really. I had no idea this would ever come about, because being a volunteer you don't expect any accolades. But it was wonderful."
He recalled his first ever fire call in 1945, when curiosity prompted him and a friend to respond to a fire alarm.
"The first fire I went to, my friend and I were living across the street and the fire whistle went. And we were just out of High School…so we thought 'lets go and see if we can go with the guys'. What had happened was only two guys and the fire chief showed up, so we went with them. And afterwards they said 'we'd you like to join'. So we did," he chuckled.
During Saturday's ceremony he also saluted the many people who volunteered along with him over the years.
"I enjoyed the work. I enjoyed everybody I worked with. I ended up with a group of friends, forever."
He reflected that a pair of fatal fires still stand out as traumatic incidents from his years of service, but he was proud of the department's achievements over the years.
"We were fortunate. We had a great group of young guys. Very practical thinking guys like they have now. They worked well together."
In addition to serving as Fire Chief from 1949 through to 1991, Speirs was also a member of Shaunavon's Town Council for nearly two decades, serving terms as Alderman from 1968 to 1974, and again from 1991 to 1994, before serving as Shaunavon's Mayor from 1994 to 1997. He was also Shaunavon's Citizen of the Year in 2006.
Current Shaunavon Mayor Grant Greenslade Saturday's special recognition was important for the community.
"It's important, not only to just single somebody out, but it's more important that we've singled out the whole First Responder community and we're recognizing somebody with a great achievement in that community. I think that's really the crux of what we're doing here," Greenslade said.
"We are very fortunate. We have actually had an increase in the number of members coming out now. We're up to 20, which I think is the highest we've ever had. And it is very important in our community of have First Responders, Firemen, ambulance and so on."