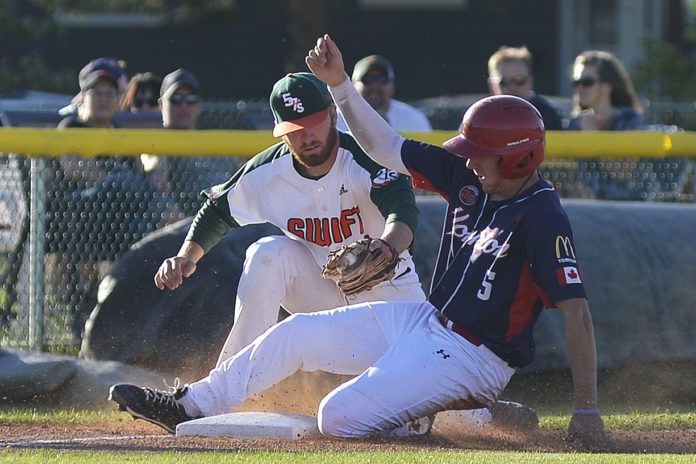 The Swift Current 57's overcame an early four-run deficit to extend their winnings streak to six games with a 14-7 win over the visiting Yorkton Cardinals on Monday.
The 57's combined 13 hits with seven Yorkton errors to hand the Cardinals their sixth straight loss in front of 605 fans at Mitchell Field.
The Cardinals came out swinging in the first inning with five hits and four runs to put the 57's on their heels.
The 57's responded with a two-run home run in the second inning from Ben Komonosky and then added four runs in the third and sixth innings to take control of the game.
While it was a relatively quiet night for the top three hitters, the four through eight hitters combined for 10 hits, nine runs scored, and 13 runs batted in.
Second baseman Ruben Rodriquez continued his torrid debut with three doubles, four runs scored, and four RBI's to leave his average at .588 since joining the team.
Komonosky finished with two hits, one run scored, and four RBI's. Designated hitter Myles Miller added three hits, including a triple, one run and two RBI's. Third baseman Mitch Dean added a hit, three walks, one run scored, and two RBI's.
Starter Jacob Kampen got the no decision after allowing eight hits, three walks and seven runs while striking out four over 4.2 innings.
Keil Krumwiede helped lock the win down as he allowed one hit and one walk over 3.1 scoreless innings with six strikeouts.
The 57's improved to 20-17, while Yorkton fell to 8-26.
The 57's will visit the Moose Jaw Miller Express on Tuesday.