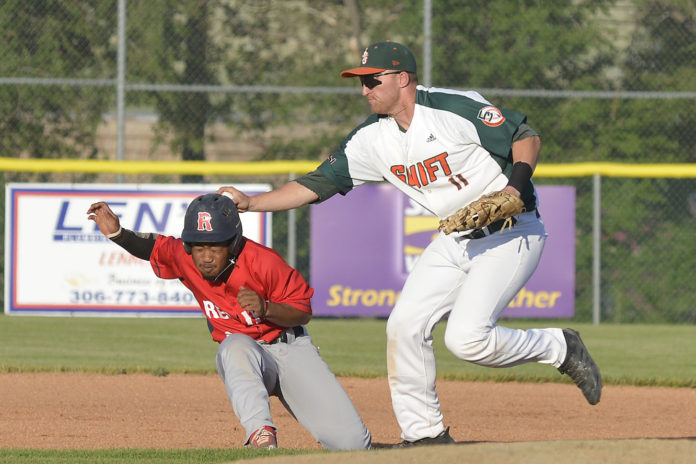 The Swift Current 57's scored nine runs on nine hits and got six shutout innings from Joey Machado in a 9-0 win over the visiting Regina Red Sox on Thursday.
Machado limited the slumping Red Sox to three hits and two walks with six strikeouts over six innings. Aaron Pugh and Keil Krumwiede added scoreless relief appearances.
Krumwiede, the team's closer during the 2017 championship season, made his season debut with two scoreless innings, throwing 16 of his 20 pitches for strikes while allowing just one hit against seven batters faced.
The 57's did most of their damage during a pair of four-run innings as they finished with nine hits and five walks, but supplemented that production by taking advantage of three wild pitches and two Regina errors.
Lead-off man Blake Adams hit a towering home run as he finished two-for-three with a walk, a hit by pitch, two runs scored and one run batted in. First baseman Bo McClintock doubled and finished with a run scored and three RBI's. McClintock is second in the WMBL with 36 RBI's in 34 games.
Jerad Dokey singled twice and scored twice. Anthony Stewart hit a RBI triple and scored a run from the nine hole.
The 57's improved to 17-17, while Regina fell to 20-12 with their third straight loss.
The 57's will be in Brooks to face the Bombers on Friday.