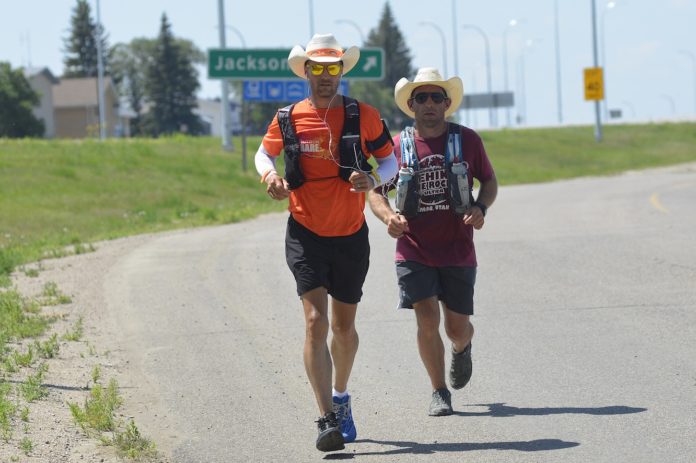 Dave Proctor passed through Swift Current on Thursday as he attempts to run across Canada in 66 days. His journey began on June 27 in Victoria and he hopes to maintain a Guinness World Record pace with a 108 kilometre daily average.
But Proctor's efforts are about much more kilometres travelled, he is hoping to raise awareness for the Rare Disease Foundation and to raise $1 million to aide in research efforts and help families with a rare disease.
The cause is deeply personal for Proctor, whose son Sam has a very rare genetic disease called Relapsing Encephalopathy with Cerebellar Ataxia. Sam Proctor, 9, is one of only five people in the world with RECA. It causes a lack of balance and co-ordination. It also causes Sam's speech to slur and he has to use a walker to go to school.
When Dave Proctor arrived in Swift Current on Thursday at 1 p.m. he had already traveled almost 46 miles that day.
"The beginning was a big struggle," admitted Proctor during a brief stop. "I would say the first six or seven days were the hardest. I was dealing with a lot of the body issues with tendinitis's and sleep deprivation… I was able to get over that hump and the body kind of corrected itself. I was able to get into a bit of a groove and find what's most important. Now I am in a bit of a grove, so I am clicking off 105's [kilometres a day], 110's every single day and it seems to be going very well right now."
Amanda Lea, General Manager of Staples in Swift Current, organized a trade show at the Swift Current Mall in support of Dave Proctor's Outrun Rare.
"Staples is one of his main sponsors. We did all the shirts, bottles, bracelets, everything. We're just a big supporter of him and along his travels he is going to stop at Staples across Canada," she explained.
Lea said that this was a cause that Staples was happy support.
"Anytime we can step in and support a cause and really put ourselves out there I think it's important… Staples is very family oriented and Dave Proctor is very family oriented, so it hits close to home because it is one of his children that has a rare disease."
Staples is also the number one supporter of Special Olympics. "I love Special Olympics," said Lea. "So being able to hop onboard with Outrun Rare and be a sponsor as well is super exciting for us. I was excited to do something different within the Swift Current Mall with Staples here. I had a lot of very excited vendors that were able to come showcase their wares, which is small business, which is what Staples is about."
Dave's parents Nancy and Randy Proctor were in Swift Current on Wednesday selling shirts and hats and spreading the word about their son's efforts.
His parents have experienced a whole gamut of emotions so far.
"Excited, proud, worried, concerned, happy, sad, you name it," said Nancy, although she said they were mainly proud of their son's efforts.
The journey had been in the works for over a year.
"Oh my gosh!" was Randy's initial reaction when informed of the cross-country run. "He's always surprising us."
"He's amazing, he really is," added Nancy.
"We just do whatever we can to help him out. If he needs it we're there," added Nancy. "That's what parents do. Just be there for him."
Nancy and Randy were headed back home shortly.
"He's got his wife and three children with him. He's got a crew of Wayne and Trish and two motorhomes. He got pretty good support right now. There's lots of runners jumping in in all the communities along the way giving him support. If he needs us we'll get there," said Randy.
"The only thing he needs is support. If they can donate or volunteer some time and do the little tiny things. If everybody would do a little tiny thing for Dave it would just be amazing," added Nancy.
There are more than 7,000 diagnosed rare diseases and many more that go undiagnosed. About one in 12 Canadians will have a rare disease in their lifetime.
"People aren't aware that one in 12 Canadians are affected. We certainly weren't until we ended up with a grandson that was and then you learn. It's some much bigger than most people are aware of. This is a necessary cause. That Rare Disease Foundation needs that funding, they need to do that research. This is an important thing," said Randy.
To learn more about the Rare Disease Foundation visit wwwrarediseasefoundation.org. To followed Dave Proctor's 7,200 kilometre journey visit www.outrunrare.com or visit his Facebook page @OutrunRare.