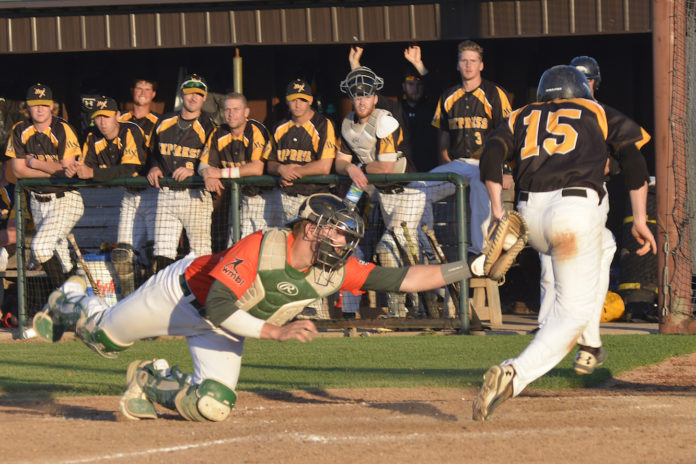 Ethan Hunter capped a four-hit evening with a walk-off single in the bottom of the 12th inning to lead the Swift Current 57's to a 5-4 comeback victory over the visiting Moose Jaw Miller Express on Wednesday.
Hunter singled home Myles Miller with two outs in the 12th inning to lead the 57's to their second straight win after they trailed 4-0.
Moose Jaw had scored three runs in the first inning and added another in the sixth inning.
Bo McClintock got the 57's on the board with a solo blast in the bottom of the sixth as he passed teammate Blake Adams for the single season record with 13 home runs in 33 games played.
Manager Joe Carnahan was tossed in the sixth inning for arguing with the umpires, but the 57's were able to cut into the lead when Jered Binsfield doubled home Hunter.
The 57's tied the game in the bottom of the ninth when Jerad Dokey singled home Hunter and Anthony Stewart but the potential winning run was caught trying to score.
The 57's used six pitchers to get the win. Evan Pontley had a rough first inning but settled in to pitch six innings, allowing four hits, two walks and four runs while striking out three.
Aaron Pugh, Isiah Campa, Spencer Koelewyn, Nick Hooper, and Tommy Steier combined to keep the Miller Express off the board for the final six innings. Steier got the win with a scoreless 12th inning.
The 57's improved to 16-17 with their second straight win as they moved two games behind Moose Jaw, who fell to 17-14.
The 57's will host the Regina Red Sox on Thursday at Mitchell Field.