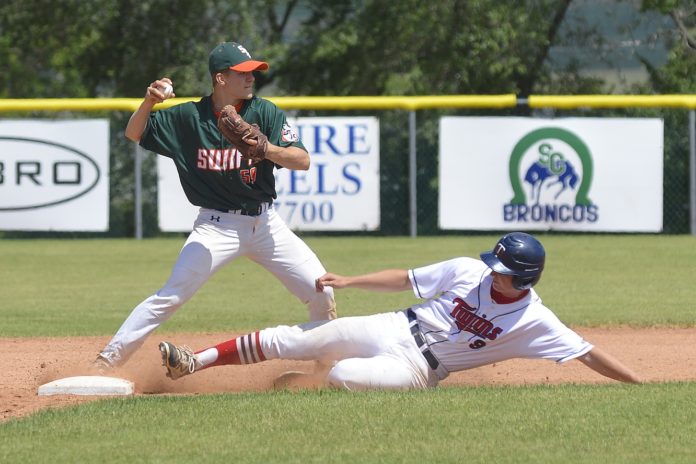 The Swift Current Midget AAA 57's won once in four Saskatchewan Premier Midget AAA Baseball League games over the weekend.
Saturday, the 57's split a pair of road games against the Muenster Red Sox. A pair of six-run innings were impossible to overcome in a 15-12 loss in game one.
The 57's knocked out 12 hits, but made three errors in the three-run loss. Logan Fritzke led the 57's with two hits, one run scored, and five runs batted in, including a two-run home run in the sixth inning. Quinn Patenaude singled, doubled, stole a base and scored three runs. Wall singled twice, walked, stole a base, scored twice, and knocked home one run.
The 57's continued to swing the bats in game two as they won 8-7. Fritzke swatted his second home run of the day and third of the season.
The 57's finished with 13 hits, including five doubles. Joe Arntsen doubled, singled, scored twice and had one RBI. Reed Jacobson also doubled, singled, scored, and added two RBI's. Nic Bachiu doubled, singled, stole a base, and scored twice. Klein got the win complete game win on the mound and added a double and a single with one RBI.
Sunday, the 57's led the opener but eventually lost 7-2 to the visiting South East Twins.
Brock Wall had a strong start on the mound but his team left 11 runners on base in the loss. They scored the opening run in the third inning when Nolan Klein singled home Bachiu. The Twins took the lead in the sixth inning with two runs, but the 57's tied the game in the bottom of the inning when Gross scored on a Klein sacrifice fly.
The Twins scored five runs in the top of the seventh inning when they combined four hits with two errors to seal the win.
The 57's lost the second game 7-4 when they were limited o seven hits and one walk. Wall finished with two hits and an RBI, while Fritzke and Brody Alexandre both doubled and had one RBI.
The 57's finished the weekend in seventh spot in the 10-team league with a 9-14 record.
The Midget 57's next action will be Tuesday when they visit the White Sox for two games in Regina.