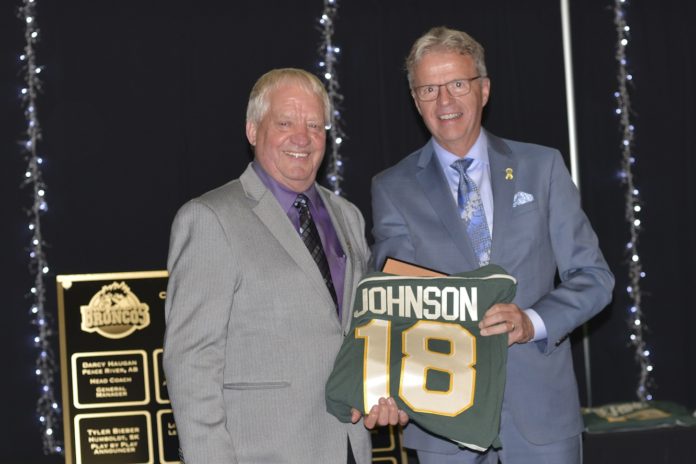 Larry Johnson is generally a pleasant man, but the smile that stretched across his face on July 7 was difficult to escape.
The longtime player, coach, and dedicated volunteer to hockey in Swift Current was inducted into the Saskatchewan Hockey Hall of Fame that evening after a lifetime committed to that game that he loved.
"This is tremendous to be inducted into the Saskatchewan Hockey of Fame and to be with people of the quality of Hayley Wickenheiser and Ron Delorme and Bill Hicke," said a beaming Johnson during the induction banquet. "It's just awesome."
Johnson began playing hockey at the age of four and his coaching career spanned over four decades, beginning in 1974 and concluded in 2015.
"Those years I'll never forget. I will never forget the day I started with the teams and every player. I think I have become good friends with all the players. You don't see very many very often but when we do I'll never forget them. They are the ones that committed to the game and helped me along."
The induction banquet was an opportunity for Johnson to reflect on a lifetime worth of memories in the hockey world.
"There's lots over 40 years. The fellowship that we had, I learned a lot from the young people. I hope that I was able to pass along some hockey knowledge to them. We were successful. I enjoyed every year. We were continually learning the game of hockey," explained Johnson.
One of his final, and most notable accomplishments was working with Bobbi-Jo Slusar to establish the Swift Current Wheelchair Hockey program.
"I always felt that I had to give something back to the community and that was a way that I could do it. I felt that the young people in wheelchairs and people with disabilities would love to have an opportunity to play the game. It was easy to start and I enjoyed ever minute of it. They loved it!"
Stewart Valley's Travis Moen played two seasons under Johnson on the Swift Current Peewee Kings before going on to skate for the Anaheim Ducks, San Jose Sharks, Montreal Canadiens, and Dallas Stars in the National Hockey League.
"Larry was an amazing coach for us. We were at that age where it was our first year of rep hockey and Larry was such a calming person, never really yelled at us, tried to teach us things the best he could. That was the first year we were really learning systems back in Swift Current. He was just a guy you could talk to, wouldn't yell at you, made sure you understood everything. He was a calm presence on the bench," said Moen.
Johnson won four provincial titles as a coach, two at Peewee and two at the Bantam levels, but his impact was about so much more than wins and losses. Other coaches have won more games and provincial titles. Others yet have sent many more players to the NHL. But Johnson always used his role as coach to develop young men and women both on and off the ice.
"I think the best thing about Larry was that he treated us like we were grown ups, we weren't just kids to him," said Brett Dickie, who played Peewee under Johnson and went on to play five seasons in the Western Hockey League. "He wouldn't coddle us. He was treating us like we were grown up people and kept holding us accountable, making us show up on time, those are all things that in our day to day lives as adults we learned from him."
Read the complete story in a future edition of the Southwest Booster