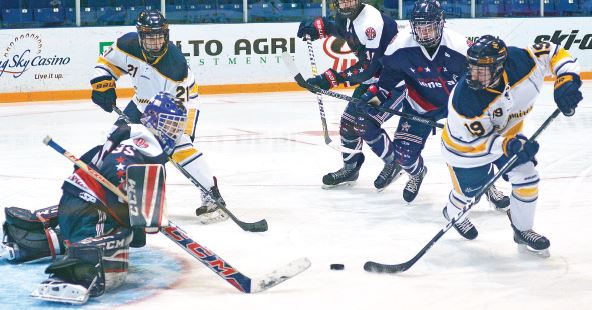 The Swift Current Home Hardware Legionnaires had their best week in recent memory
with three wins over teams from the top, middle, and bottom of the Saskatchewan
Midget AAA standings.
Last Tuesday, the Legionnaires opened with three power play goals and never looked back on their way to a 7-1 win over the league-leading Moose Jaw Generals.
The host Legionnaires notched power play goals from Hunter Lamb and two from captain Zach Ziegler over the opening 9:16 before Jacob Piller made it 4-0 prior to the end of
the period.
Ethan Regnier and Christian Riemer added second period goals for a 6-0 lead. Kyler Douglas
broke the shutout bid for the Generals midway through the third period before Owen
Ozar closed the scoring for the Legionnaires.
Cody Levesque got the win with 21 saves. Matt Lenz allowed three goals on six shots
over 9:16 in the loss. Hunter Arps made 19 saves on 23 shots over 50:44 in relief.
Regnier and Lamb each added four assists during vepoint outings. Ziegler also had two assists for a four-point night. Riemer, Rin Beny, Ozar, and Jevon Schwean all added
assists.
Friday, the offensive outburst continued in a 12-2 win over the last-place Notre Dame Argos when the Legionnaires  red 41 shots on goal and finished five-for-seven on the man-advantage.
Jerzy Orchard scored three goals and added an assist, Riemer added a goal and three assists, and Regnier, Mason Strutt, and Mattias Allardyce all registered a goal and three assists.
Tyler Pryhitka added two goals and an assist, Piller contributed a goal and two assists,
and Ziegler totaled three assists. Jake Misskey posted a goal and an assist, Lucas
Ochitwa added two assists, and Ozar and Lamb each registered one assist. Levesque got the
win with 10 saves on 12 shots.
Sunday, the Legionnaires got 26 saves from Levesque in a 2-0 win over the visiting Saskatoon Contacts. Lamb nished with a goal and an assist, while Rin Beny scored the game winner midway through the third period.
Regnier assisted on both goals and Ziegler added a single assist. The Legionnaires finished
the week in sixth spot in the 12-team SMAAAHL with an 11-14-0-3 record in a cluster of
six teams within three points of one another. Regnier finished the week in top spot in
the league scoring race with 41 points in 28 games, including 28 assists to lead the league.
Lamb was fourth with 31 points.
The Legionnaires will travel to Moose Jaw on Saturday for a rematch with the Generals. They will play their final game of 2016 on Tuesday when they host the Regina Pat Canadians
at 8:15 p.m. at the Credit Unioniplex.