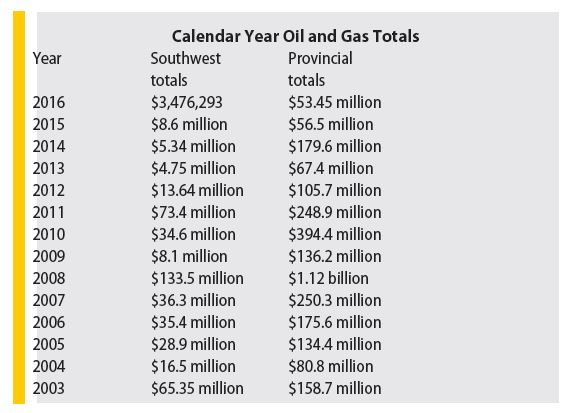 The Southwest had a quiet ending to the year during December's public offering of Crown Petroleum and Natural Gas Dispositions.
While the province enjoyed its second highest sales total of the 2016 calendar year, the
Swift Current region generated its third quietest sale of the year at just over $162,000. Six
of nine available leases were sold at an average of $910 per hectare during the December
6 sale.
The top purchaser in the area was BASM Land & Resources Ltd. who acquired a 32.38 hectare lease parcel at a cost of $100,940. The parcel, situated within the Sueld Upper Shaunavon Oil Pool located 50 kilometres southwest of Swift Current, was both the top
price for a single lease and the regions highest dollar per hectare parcel at $3,177 a hectare.
During the six sales of 2016, the Swift Current region generated $3,476,293, just over 15
per cent of the $53.45 million generated over the year. Saskatchewan wide, the December provincial total of $14.2 million, was the second best sale of 2016, slightly behind the pace of $17.2 million generated in October.
The Estevan region again led the province with just over $12 million in activity, easily outdistancing the Lloydminster area at $1.4 million, the Kindersley area at $610,000, and
the $162,076 from the Southwest. D u r i n g 2016, Saskatchewan's calendar year total in oil and gas activity was $53.45 million, which is slightly behind the pace of $56.5 million
during 2015, but well o the $179.6 million generated in 2014.
The year 2016 is Saskatchewan's quietest calendar year total since $48.34 million back in 2000. The next p e t r o l e u m and natural gas rights sale will be on February 7, 2017.