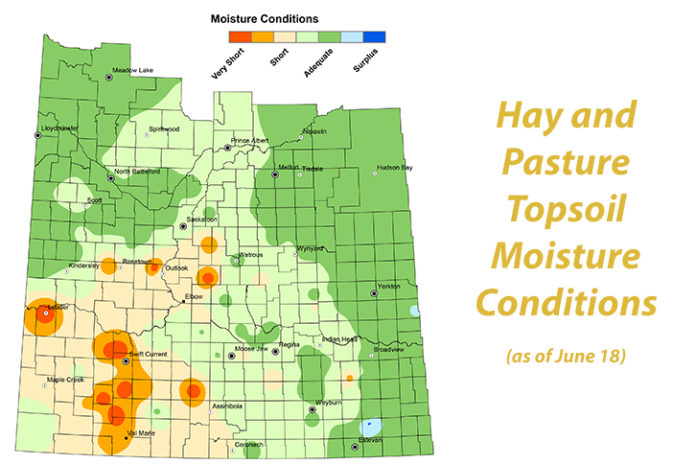 Producers across the Southwest have their fingers crossed that weather forecasts calling 60 per cent chance of rain over the next few days actually come true.
The Saskatchewan Agriculture Crop Report for the period of June 12 to 18 points to a worsening of topsoil moisture conditions over the past week.
Nearly two-thirds of Southwest fields are reporting challenging crop soil moisture conditions, with 49 per cent rated as short, 18 per cent very short, while 33 per cent are adequate. Hay land and pasture topsoil moisture conditions are in a similar situation, with 28 per cent adequate, compared to 44 per cent short and 28 per cent very short.
The Southwest only received spotty rain showers during the period of June 12 to 18. The Big Beaver area had 9 millimetres, Gravelbourg and region had 6 millimetres, while the areas around Success and Leader had 5 millimetres. For the growing season, which began back on April 1, the Shaunavon and Gull Lake areas have received only 25 millimetres of rainfall.
Rain is needed now in much of the Southwest in order to sustain crop and pasture growth.
"Crops in some areas are stressed and showing the affects of dry conditions," the Crop Report for the Southwest states. "Concerns remain that current soil moisture levels will not be enough to support a crop if rain does not come soon. Some hay fields have prematurely headed-out. Livestock producers have started to cut hay."
Southwest Crop Development
as of June 18
Fall Cereals – 96% normal, 4% behind
Spring Cereals – 4% ahead, 67% normal, 29% behind
Oilseeds – 58% normal, 42% behind
Pulse Crops – 4% ahead, 72% normal, 24% behind
Ironically, parts of the Southeast still have flooded fields as a result of heavy rain a couple of weeks ago.
Saskatchewan wide, topsoil moisture conditions on cropland are rated as four per cent surplus, 67 per cent adequate, 24 per cent short, and five per cent very short.