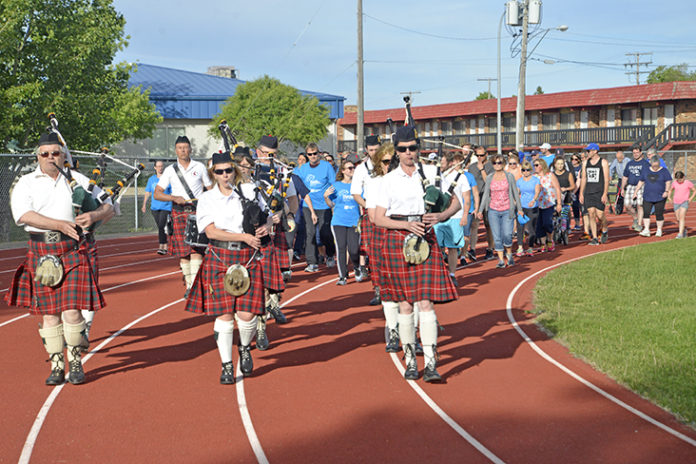 The Investors Group Walk for Alzheimer's on June 13 attracted a record turnout and Swift Current's fourth annual walk also posted a record fundraising total.
The record turnout of between 100 and 125 walkers generated a total of $11,000 in donations, which almost doubled their $6,000 fund-raising target.
"I am amazed at the turnout…it's our biggest year yet," exclaimed Laura Hirtle, the Alzheimer Society of Saskatchewan's First Link Coordinator at the Cypress Resource Centre.
Last year's walk was held indoors because of wet conditions, and a group of 75 walkers raised around $4,000.
Hirtle attributes the growth of the event to the growing impact of Alzheimer's.
"I think part of it could be the growing awareness of Alzheimer Disease and related dementia, and people are starting to understand the significance," she said. "I think a lot of these people are also effected by the disease so they're wanting to come out and show their support in memory or in honour of somebody."
People were able to participate in person, as well as supporting the fundraiser by participating on-line. Those in attendance ranged from young children to seniors who are in the early stages of Alzheimer's.
"This is a disease that effects the whole family, not just the person diagnosed," Hirtle noted.
An impactful presentation was made at the walk from an individual in the early stages of the disease. He noted that he first noticed there was something different when at a family reunion he could not remember the names of family members who had just re-introduced themselves.
Hirtle said this a common early symptom of the disease, but those with Alzheimer's and their loved once are not always aware of the change.
"That's quite common. Either people don't recognize, they don't have the insight as a result of the disease, or they know that something is not right. They don't know what that is, but that's usually what prompts them to talk to their doctor – they're just not feeling like their usual self."
She pointed out that people do not have to face an Alzheimer's diagnosis on their own.
"Know that you're not alone on this journey. Often times people feel that way, but know that there is support out there. And we really encourage people to connect with us."
There are a series of seasonal opportunities provided by the Alzheimer Society of Saskatchewan in Swift Current. A Caregiver Support Group runs monthly, breaking for July and August, on the third Monday of the month at 7:30 p.m. to 8:30 p.m. The group is specifically for caregivers. An Early Stage Support Group runs on the fourth Tuesday, from 4:30 p.m. to 6 p.m. This group caters to individuals who are in the early stages of the disease. The third group is the Alzheimer Coffee Club, open to people who have the disease, along with family and friends. This group is not structured like the other support groups, but is purely for socialization. They meet on the second Wednesday of each month, from 2 p.m. to 3:30 p.m.
"Those are monthly meetings that happen where people can come, be with other people who are on the same journey, and get support."
"I think really understanding that you can have a high quality of life with the disease and throughout the disease. Some times that initial impact of the diagnosis, and you go through the transition, it can seem quite difficult. But we at the Alzheimer Society we're here to remind people you can have a high quality of life at every stage of the disease."